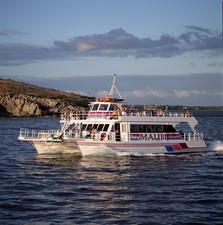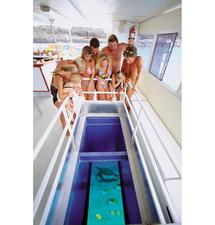 Adult Price:
$170.40
-
Members Price:
$170.40
Child Price:
$127.53
-
Members Price:
$127.53
Infants Price:
$0.00
-
Members Price:
$0.00
https://www.prideofmaui.com/trips/turtlesnorkel/

A Maui vacation is not complete without a Maui Turtle Snorkeling Tour. This tour Includes superb snorkeling, Turtle viewing, BBQ lunch, open bar, sanitized snorkel gear, flotation, and Impeccable service aboard the most spacious and stable vessel on Maui, the "Pride of Maui".

(This charge will appear as "Hawaii Experts" on your credit card.)

You may not want to wake up at the crack of dawn. The Afternoon Maui Snorkeling and Turtle Adventure cruise aboard the spacious and stable Pride of Maui is the perfect solution. Sleep in, then join us for an amazing afternoon of snorkeling and Turtle gazing. We routinely snorkel with the turtles at Turtle Reef (about half of all afternoon trips). When the weather cooperates, we'll even take you to Molokini Crater.

The opportunity to swim with and photograph sea turtles is exceptional at Turtle Reef. (Please note: While turtle sightings are very common, the sea turtles are wildlife so they can be unpredictable at times. Therefore, sightings are not guaranteed.) While our other locations do not feature sea turtles, you will see a variety of colorful coral and interesting marine animals. Your safety is our number one consideration and the Captain will choose the location offering the best overall conditions.

You'll enjoy a full three hour Turtle Adventure combined with snorkeling a beautiful coral reef. We provide reef-safe sunscreen free of charge and sanitized snorkel gear, aboard the most stable and spacious boat on Maui with unsurpassed amenities including two restrooms, glass bottom, water slide, submerged boarding ladders, warm showers, large hardwood bar, and over 2500 feet of open deck space.

INCLUDED
We provide snorkel equipment, flotation devices, and optical masks, so there is no need to rent these items for this excursion.

Your freshly prepared BBQ lunch includes big juicy burgers, hot dogs, marinated chicken breasts, as well as an open bar with ice cold beer, regional wines, and tropical mai tais. Homemade mac-nut white chocolate cookies are baked fresh daily for your enjoyment.

Enjoy complimentary beverages throughout the trip including Coke, Diet Coke, and Sprite. There's also an open bar (after snorkeling), serving Maui Brewing Company beer, premixed Mai-tai's and rum cocktails.

** For veggie burgers, please give 72 hours notice by calling our reservations line at 808.242.0955.

AMENITIES
The Pride's seating and layout permit unobstructed panoramic viewing and unsurpassed photo opportunities. From her sprawling upper deck, you'll experience memories not soon forgotten. Photograph your life-long memories from our spacious and stable yacht, with nearly 3000 square feet of deck space guests are treated to our first-class service, in an un-crowded environment, for memories beyond compare.

ITEMS TO BRING
Camera, sunglasses, and towels. Picture ID is required for passengers consuming alcoholic beverages.

Reef-safe sunscreen is available for purchase onboard. (***Notice: When using our reef-safe sunscreen, please be sure to reapply it every 45 minutes and immediately after getting out of the water.)

Camera rentals are available for purchase.

EXTRAS

Wetsuits are available to rent for $10. We accept cash or credit card.


THINGS TO KNOW

Snorkeling Safety Tips: https://www.prideofmaui.com/snorkeling-safety/

Frequently Asked Questions: https://www.prideofmaui.com/about/faq/

Best Maui Things To Do: https://www.prideofmaui.com/about/blog/

*****WEATHER DISCLAIMER***************************************
To ensure the safety of our customers, all of our trips are weather dependent. At the captain's discretion, trips may be rescheduled or destinations may be changed to ensure customer safety, comfort, and satisfaction.
**************************************************************

Accommodation Information:
For your safety, trips to our snorkeling destinations are weather-dependent. Please provide 48 hours cancellation notification for a full refund. Less than 48 hours may result in no refund. Cancellations related to travel restrictions and COVID -19, will be fully refunded. Please travel safe and let us know if you have any questions about Hawaii's Safe Travel policies. To reschedule, call 808-242-0955.