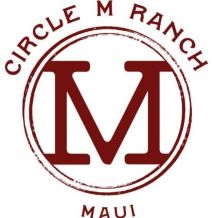 Phone: 808-871-5222
Year Established: 1940
Maui Trail Rides recently purchased Mendes Ranch a family-owned and operated ranch with deep roots in the island of Maui. Originally from Portugal, the family arrived in Maui in 1880s. The family then homesteaded 300 acres and started Mendes Ranch in 1940. The horseback ride was started over 30 years ago and takes you along the cliffs overlooking the Pacific Ocean. Come and learn the history of Maui and the rich heritage of the Mendes family.
ACTIVITIES:

Join us on the exhilarating "Morning or Afternoon Oceanfront Trail Ride" that commences at the Circle M Ranch (formerly Mendes) Corral. This captivating journey will lead you along the edge of a picturesque valley until you reach the breathtaking coastline, where the awe-inspiring waters of the Pacific Ocean await your gaze. Prepare to be enchanted by the natural beauty that surrounds you as you make your way back to the corral.

At the coastline, our experienced trail guides will capture stunning photographs of you against the backdrop of the majestic seascape.

Duration of the ride: 1.5 hours
Morning Check-in time: 8:45 am (Departure at 9:00 am)
Afternoon Check-in time: 12:15 pm (Departure at 12:30 pm)

To ensure the safety of both riders and horses, we have a strict weight limit of 230 lbs. Given the mountainous terrain and potential risks of horse slips, we prioritize the well-being of everyone involved. If there are any concerns about your weight, we will kindly request you to be weighed on-site. Please note that if you are unable to participate due to exceeding the weight limit, we will be unable to provide a refund as we are fully booked and could have sold your spot. We sincerely appreciate your understanding and honesty, and we are excited to welcome you to the ranch!

Cancellation Policy: 24 hours for 5 riders or less, 48 hours for 6 or more riders, 72 hours for Private Rides. For riders 16 and older: Min height 4'11" Max is 6'3" with a Max weight limit of 230Ibs. (May be weighed at check in at the guide's discretion)