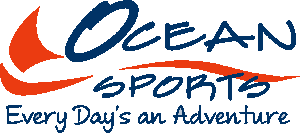 Phone: 808-886-6666
Toll Free: 888-724-5924 ext. 1
Year Established: 1981
Whether you want to snorkel the Kohala Coast, whale watch, kayak, scuba dive or simply relax on the beach, Ocean Sports does it all. We specialize in exciting ocean adventures! Nestled on beautiful Anaeho'omalu Bay fronting the Waikoloa Beach Resort, Ocean Sports is the premier water sports and snorkel tour company on the Kohala Coast, just north of Kona on the Big Island of Hawaii. Book Now with an online reservation! Or if you want to find out more about our activities, choose one from the menu above. Thanks for visiting us and we hope to see you soon...where an ocean adventure awaits you! Call us toll free at (888) SAILWAIKOLOA Ext. 1 (888) 724-5924 Extension 1 Experience you can trust...locally owned and operated since 1981!
ACTIVITIES:
Mahalo for choosing the Ocean Sports Glass Bottom Boat for your Adventure!
Soon, you'll be stepping aboard the Glass Bottom Boat to explore the amazing Hawaiian Reef without ever getting wet! You can relax under the shaded canopy and see green sea turtles grazing, and hundreds of tropical fish thru 6 full size windows! Our onboard marine naturalist will answer all your questions on this 30 minute tour - perfect for all ages.

Boarding the Glass Bottom Boat is easy! The boat pulls directly up to the shoreline at Anaeho'omalu Bay, and you step aboard via a ramp at the bow of the boat.
Depending on tide heights, you may need to walk thru knee-deep water while boarding or deboarding the boat.
Mahalo for choosing the Ocean Sports Snorkel Adventure!
Soon, you'll be snorkeling over pristine reefs off the Kohala coast! We'll include a marine life orientation, snorkel lesson (and all the gear), and even a guided tour of the reef (or you can explore on your own with your buddy).
We'll also provide a continental breakfast when you get aboard, and a deli style lunch buffet after you're done snorkeling. Soft drinks are always available, and we even include our complimentary adult bar (ID required) featuring island beers on tap, Captain's Signature Cocktails, short bar, and red and white wine.
Take the helm under the guidance of our captain as we sail our legendary catamaran along the coast back to the bay...or relax in the warm afternoon breezes and let us do the work!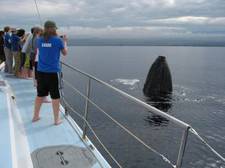 Join Ocean Sports on our award-winning Whale Watch Cruises for the adventure of your life!
Every cruise includes expert Humpback interpretation from our on-board naturalists. Listen to the haunting songs of the Humpbacks through our hydrophone. We always include soft drinks and crunchy snacks, but our Wake up with the Whales Cruise includes hot coffee too! Our afternoon Sail with the Whales Cruise gets your evening festivities started with a complimentary bar, and the biggest party guests of all...the Humpback Whales!
Morning trips are Guaranteed -- See a Humpback or ride again with us for FREE!
Available 12/1 - 4/15. Multiple trips leaving from within the Humpback National Marine Sanctuary daily.
We'll pull the sails and party with the whales on this cruise.
A perfect beginning to your evening in paradise. Enjoy unparalleled views of the Kohala coastline, and watch the sun set over the turquoise ocean from aboard our well-appointed catamaran.
We'll include a variety of hot and cold pupu and a complimentary bar too!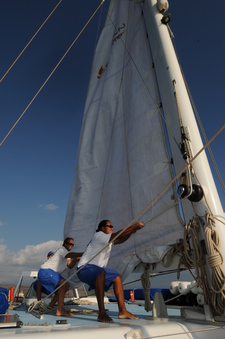 Mahalo for choosing the Ocean Sports Cocktails at Sunset Cruise!

This cruise is the perfect way to begin your evening in paradise. You'll enjoy the warm tropical breezes and unparalleled views of the Big Island aboard our well-appointed catamaran. We'll include a Pupu buffet for snacking featuring spicy chicken wings, homemade meat balls, slider buns, veggie crudite and chips and salsa.

Sip beverages from our complimentary adult bar (ID required) featuring local beers on tap, tropical cocktails (including Kay's Cosmo), a selection of wines and champagne, soft drinks and refreshing tropical juices.
Please note: Cruises scheduled on the vessel Alala, are not sailing trips...you'll be cruising under power.

To make your evening even more romantic, we invite you to participate in our "Ceremony at Sea" vow renewal. We'll provide a personalized ceremony and certificate commemorating your special evening, Hawaiian Style lei, and champagne toast. **Additional fee applies and advance reservations are required for Vow Renewal.


Mahalo for choosing to spend your day with Ocean Sports!

Your Aloha Package begins at 10:00 am and ends at 2:00 pm and includes: UNLIMITED use of all our beach toys, Outrigger Canoe Rides, Glass Bottom Boat Rides, a fun fitness class at 11:00, games for the keiki, music, and lunch specials at A'Bay Cafe. Plus, you can save 20% off our regular fare on all our catamaran adventures if you make your reservations during your Aloha Day!
Please note that for your safety, beach toy launching is weather dependent and at the sole discretion of Ocean Sports staff.
Mahalo for choosing Ocean Sports for your Scuba Diving Adventure!
Soon, you'll be strapping on your tank and exploring two of the most unique dive sites in the world. The Big Island of Hawaii boasts crystal clear waters with great visibility, an array of colorful coral gardens, and rugged lava formations. Most of our dives sites classify as shallow reef dives with a maximum depth of 65 feet. Even the most experienced divers can appreciate the unique beauty of our young and growing reef communities.
We'll be departing from the beach at Anaeho'omalu Bay on the vessel "Lani Kai". If you didn't bring your own gear, we provide Scuba Pro BC's and regulators, masks, fins and wetsuits. If you've brought your own gear and plan to dive more than one day with us, we're happy to store it safely on board our boat.
Certified divers must show proof of certification at check-in. Classes are available for introductory dives, certification completions, and full certifications. We also offer advanced certifications!
Join our certified fitness instructors for a relaxing yoga class. It's a perfect way to begin your day in paradise. Call (808)886-6666 ext. 101 for more information
Cancellation Policy: Cancellation Policy: If you need to cancel your reservation with us, please do so 24 hours prior to your scheduled activity to receive a full refund. If you need to cancel less than 24 hours prior, you'll be charged the full fare. Cancellations on our Catamaran cruises due to weather are at the sole discretion of the Captain. Cancellation terms for blocks or Exclusive Charters may vary as agreed.