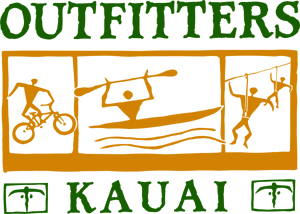 Phone: 808-742-9667
Toll Free: 888-742-9887
Paddle a calm-water jungle stream or sea kayak the wild Na Pali coast. Cruise on coaster bikes downhill from the rim of Waimea Canyon all the way to the blue Pacific. Ride ziplines high above waterfalls and swim in cool-water mountain pools. Big fun in beautiful places!
ACTIVITIES:
100% downhill, 100% fun. An exhilarating bike ride from the rim of the famed Waimea Canyon (elevation 3500ft.) down 13 miles of smooth winding blacktop all of the way to the shore of the blue Pacific. Enjoy the beautiful early morning light over Waimea Canyon - it's spectacular! You won't be snoozin' - you'll be cruisin'. We serve steaming Kauai Coffee and fresh blueberry muffins as we ride up in our van. We serve cold soft drinks, spring water. Our comfortable helmets and operating procedures make for a ride that's safe and controlled, yet still invigorating. We'll be riding through one of the most beautiful and interesting places on the planet, so of course, we'll stop along the way for photos and narrative on history, culture, folklore and legends. We'll get hands-on and identify native plants, trees and birds. As well as having an enjoyable ride in a beautiful place, you'll learn about what makes Kauai special! The bikes: Great cruisers with wide, comfy saddles, hi-rise handlebars, and smooth, powerful drum brakes. Food and drink: Fresh muffins and Kauai Coffee, cold water and Hawaiian Sun beverages. What to wear and bring: Shorts or pants, t-shirt, windbreaker or light jacket, closed-toed shoes, eyeglasses or sunglasses.
A half-day version of the above listed Kipu Falls Safari- have a great paddle on the Hule?ia River- after cruising downwind for 2 miles, we?ll tie our kayaks to a tree and take a ¾ mile hike up the valley to an enchanting area of waterfalls and swimming holes. Take a swing on our rope into a deep-water mountain pool, enjoy snacks and cold drinks at a pretty little waterfall, and then for the return trip, rather than paddling your kayak into headwinds, kick back and cruise down river on our motorized Hawaiian canoe.

The mid-day tour includes a delicious picnic lunch at the waterfall?s edge.

This trip is great way to have some fun and see some pretty places, without spending your whole day at it. For example: sleep in, have a swim at the beach, and join us for a three hour afternoon or mid-day Picnic Hidden Falls Kayak Tour. Or, paddle and hike with us in the morning, and go up to Waimea Canyon for the afternoon- a great way to get the most out of your vacation time!
What?s Included: AM Tour includes snacks and cold beverages, the Picnic Tour includes a GREAT picnic lunch.
What to wear and bring: Swimsuit, shorts, t-shirt, windbreaker or light rain coat, footwear with aggressive tread for muddy conditions
(example: sport type sandals with heel straps or aqua socks with tread), sunscreen, hat, bug spray, H2Oproof camera.

Soar. Glide. Fly.
Feel the absolute exhilaration of soaring over the jungle treetops on our thrilling ziplines- each unique and distinctly different from the others!

In Hawaiian, "Nui Loa" means "big," "long," and "a lot." That describes our newest zipline adventure perfectly!


Enjoy the pristine beauty of the Kipu Ranch as you zip above lush valleys and tumbling waterfalls. Take in the spectacular sights from a series of suspension bridges and aerial walkways. Step back in time as you hike through footpaths and a recently discovered tunnel through the jungle!

ZIP. EIGHTEEN. HUNDRED. FEET. That's right- our 1800' tandem ziplines are the ultimate rush!! Soar past the breathtaking Ha'upu Mountains and over towering trees. Check out the look on your buddy's face as you fly side-by-side. Our center-dismount type lines make for over 90 seconds of air time- you'll be "in-flight" for more than a quarter mile! Then, hang on for a ride that's wild- and wet! Our WaterZip is fun for everyone! Just hold on, step off, and zip over a mountain stream-fed, natural swimming pool. Let go and jump into the clear, deep waters of the secluded Blue pool, or just relax and float!

-Refreshments: A hearty picnic lunch consisting of a turkey or veggie wrap, pasta salad, cookie, and cold bottled water.
-What to wear and bring: Windbreaker or raincoat, swimwear, hat, sunscreen, aquasocks or sport sandals, bug spray, camera.

Join us for the thrill of a lifetime.
Paddle the Wailua, a beautiful and historic jungle stream, deep into the heart of the island. Where the river gets shallow, we'll tie our kayaks to a tree and take a one-mile hike up the valley to a 100' waterfall with a pool at the bottom. We'll have a great picnic lunch and then hike back down to the kayaks for some more fun paddling. Swimming holes, native and exotic botanical wonders; a fantasyland of Hawaiian deep jungle scenery. All day, moderately strenuous. Guests will paddle downwind on the way up the river, do a somewhat rugged hike to a waterfall one mile each way, and on the way back we will be paddling into headwinds. This trip is a lot more strenuous than our Hidden Valley Falls Tour, so if you like a bit of a workout, this is the river trip for you!
Soar on ziplines through the forest canopy high above rivers and waterfalls. Hike, swim, and rope swing into a deep-water pond at the base of a mountain stream waterfall. Enjoy learning about the ecology, natural history, culture, folklore, and legends of Kauai.
The four Ziplines are designed, built, and operated according to the highest safety standards as set by the ACCT (Association for Challenge Course Technology). Each of them is different and unique. And, the setting is magnificent: Kipu Ranch, a 4000 acre piece of paradise that has long been closed to the general public. The lands run from the tall mountaintops of the jagged Hoary Head Range through pastoral meadows down to the edge of a lazy jungle stream. You'll travel private foot trails winding through exotic forests to reach the rim of a narrow slot canyon. Fern covered black rock walls rise above waterfall after cascading waterfall. And that is where the fun REALLY starts.
After a safety briefing conducted by one of our trained, certified guides, you will be issued your state-of-the-art safety and climbing gear, and set out to travel over, under, around and through that gorgeous slot canyon under our expert leadership. You'll go from top to bottom through the forest canopy just about every fun way you can imagine: ziplines, elevated walkways, suspension bridges, and even the new and innovative Zippel line, that combines the use of rappelling gear with ziplining. And you'll really get a kick out of our new tandem zipline - ride side-by-side, laughing (or maybe screaming!!!) through the tree tops and over waterfalls. Hooting, hollering, and ear-to-ear grins seem to be standard operating procedure!
A short hike through the jungle to the beautiful Kipu Falls for swimming and rope swings rounds out this exciting 4 hour tour. Once there, the more adventurous types will be jumping into swimming holes at the base of waterfalls cascading over black lava rock cliffs, and swinging on ropes tied to tree branches high above mountain pools. Others will simply relax and enjoy the quiet beauty!
Enough thrills for your entire vacation-in just 3 hours!! In Hawaiian, "Iki Mua" affectionately means little brother, but this tour is just as strong as its older sibling-the Zip Trek Nui Loa. Only have a few hours to spend ziplining? Then, the Zip Trek Iki Mua is perfect for your busy schedule! Our "Treehouse Course" was the first to introduce ziplining to beautiful Kauai, so begin your adventure where it all started!
Experience the wonder of flying above a tropical paradise on series of thrilling ziplines. Enjoy learning about the ecology, natural history, culture, folklore, and legends of Kauai. Hike secret forest trails and be awed by our island's natural beauty. Traverse lush valleys and tumbling streams on a series of exciting suspension bridges and aerial walkways. Combine ziplining and rappelling on our Zippel-you control your speed while high above a beautiful waterfall... stop and enjoy the view. Go beside a partner on the tandem ziplines-double the smiles and screams! More adventurous folks even have the option to go backwards and upside-down! An unforgettable adventure, in an incredible place.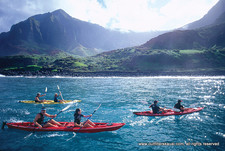 This is a 15-mile tour by kayak of one of the most beautiful and remote of the world's shorelines. Paddle at the base of sheer 3000ft sea cliffs, through waterfalls plunging hundreds of feet into the ocean, land at a beautiful beach that is actually closed nine months of the year due to huge surf. We meet early in Poipu and ride together in our van to the launch site at Haena. After about an hour's paddle we'll come upon the famed sea caves of Na Pali, entering if sea conditions permit. We'll raft up our kayaks for juice and snacks mid-morning. We paddle a total of 11 miles to our first landing, which is at Milolii, the site of an ancient Hawaiian fishing community, where we'll have lunch. Usually we arrive at Milolii between 1 and 2 pm, so the morning is long! After lunch we have a 4-mile paddle in typically calm water to Polihale, where our van will be waiting. When we return to our Poipu store, we will have circumnavigated the entire island!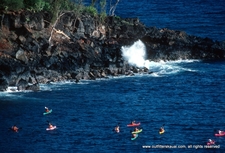 This is a 7-mile tour by kayak of the spectacular sea cliffs and hidden beaches of Kauai's South Shore, between Poipu and Port Allen. We meet early, in Poipu, and ride together in our 15 passenger van to our launch site at nearby Kukui'ula Small Boat Harbor. After a basic paddling school, we launch our kayaks and head down the coast. We'll paddle passed the Spouting Horn, a spectacular salt-water blowhole. After about 45 minutes of paddling we'll surf our kayaks up on the beach at Lawa'i Kai, the exquisitely beautiful site of Queen Emma's summer home. Lawa'i Kai is a great place for swimming and body surfing, so we'll have some fun and laughs there before we head back down the coast. We'll continue on passed the white sands and barrier reed of Palama's Point. We'll be hoping to see some marine life as we paddle - spinner dolphins and honu, or sea turtles, are common, and seasonally (November through April) we may even get to see Humpback Whales! Our paddling will end at Wahiawa, a ¾ mile long crescent-shaped private golden sand beach. After paddling 7 miles, we'll be ready for lunch. The guides will lay out a great picnic, and we'll enjoy our private beach, swimming and beachcombing until our shuttle driver arrives at mid-afternoon to whisk us away back to Poipu. The end of a great adventure and a great day!
Cancellation Policy: Check here to agree to the following terms and conditions: 24-hour notice is required for change or cancellation, 72 hours for groups of six or more passengers. 100% penalty charge strictly enforced. All customers are required to sign a liability release prior to taking the tour. Weight limit is 275lb on all tours. Tours run rain or shine. All guests please come prepared based on the "What to Wear and Bring" info tab. We appreciate your reservation very much...mahalo and aloha!