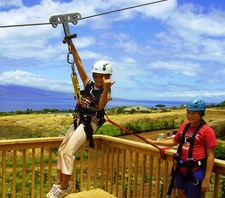 Adult Price:
$197.87
-
Members Price:
$168.19
Child Price:
$177.03
-
Members Price:
$150.48
Walk Along Price:
$36.36
-
Members Price:
$30.91
Toddler (under 5 years age) Price:
$0.00
-
Members Price:
$0.00
Come enjoy exciting activities, aquaball and zipline riding, while learning about organic farming and touring Maui's first dragon fruit farm.

The farm is located about five minutes from Lahaina nestled below the majestic West Maui mountains with a panoramic breathtaking ocean view. Directions will be sent in the confirmation email.

The tour begins with two aquaball rides down a 450 foot long track thru a sugarcane field. Then a stroll around the farm where guests learn about Maui's agricultural history and major agricultural commercial crops, including the new commercial crop to the island: Dragon Fruit-King of Fruits. The tour concludes with four rides down a 450 foot long zipline ride over the dragon fruit field.

The duration of the tour is about three hours. Please wear closed toed shoes and remember to bring your swimsuit and a towel. A fruit tasting will be provided as seasonally available. Dragon fruit season is July to November. Bottled water will be provided.


Accommodation Information:
24 hour cancellation for individual bookings; 72 hours for groups of 10 or more;7-days for private tours.