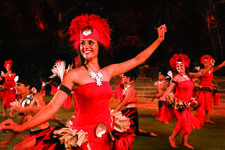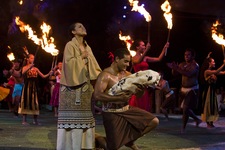 Adult Price:
$108.95
-
Members Price:
$92.63
Child Price:
$87.16
-
Members Price:
$74.10
Our Nightlife package includes dinner at the beautiful Gateway venue featuring a hand painted mural depicting early service missionaries aid to establish the Polynesian Cultural Center and our award winning "HA: Breath of Life" evening show featuring a one of kind fire-filled performance, dramatic special effects and reserved seating.

Round trip transportation is not available with this ticket.

You will be purchasing tickets to the Polynesian Cultural Center on the Activities and Attractions Association of Hawaii's website. This order will be received and processed by the Polynesian Cultural Center about one business day after your purchase. You must receive a separate confirmation from the PCC to secure your request.

Changes to this order must be made one business day before your activity date. If you have changes or questions, please call 800-367-7060 and state that you have purchased tickets on the Hawaiifun.org website for further assistance.
Accommodation Information:
There will be no charge for cancellations made by 5:00p day before the date of the activity. Cancellations made after 5:00p of the date of the activity will be charged the full price per ticket, and the full cost of any transportation booked. Please remember that we're closed on Wednesdays, Sundays, Thanksgiving Day & Christmas Day.