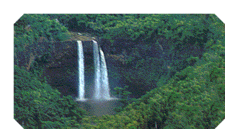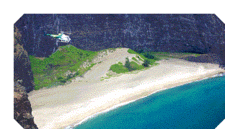 Seat Price:
$239.00
-
Members Price:
$190.00
This extensive, detailed and thorough tour of Kauai takes you along the Hoary Head mountain range into the Hanapepe Valley to see the Manawaipuna Waterfalls (commonly called the "Jurassic Waterfall" as seen in the movie of the same name). It includes flying over Olokele Canyon and then on to the Waimea Canyon (the "Grand Canyon of the Pacific") to see the Waialae Waterfalls. Continue on over Kokee State Park and fly into the major valleys along the Na Pali Coast. See the North Shore, Hanalei Bay, Lumahai Beach, Namolokama Mountain and waterfalls. Fly up the tropical rainforest of the Hanalei Valley and see taro patches (and, weather permitting, more waterfalls) and Mount Waialeale Crater, the wettest spot on earth with over 450" of rain per year. Fly back to Lihue Airport and see the Wailua Waterfalls (shown in the opening scenes of TV's Fantasy Island).
Accommodation Information:
Cancellations must be made 24 hours prior to the day of service and will result in a 10% credit card charge. Cancellations made in a shorter period of time (less than 24 hours prior to the day of service) will result in a 100% charge being incurred. 100% refund for cancellation initiated by company. Tours and times may vary due to weather conditions. Our ASTAR helicopter has a custom Mega Window for exceptional viewing; we highly recommend wearing dark clothing for taking pictures in order to reduce any potential glare or reflection on the Mega Windows. The Mega Windows were developed for exceptional viewing not for photography. Wheelchair accessible - conditional - please call to clarify.