Phone: 808-244-2087
Toll Free: 800-441-2087
Year Established: 1994
Maui's best performance sailing charters! Sailing daily from Lahaina & Maalaea Harbors.
ACTIVITIES:

The wonders of nature have blessed this spectacular, crescent shaped crater. Molokini, a natural marine preserve and bird sanctuary, is one of the most visually stimulating snorkel experiences available to the visitors of Maui. Paragon Sailing Charters combines the elements of performance sailing with the underwater experiences at Molokini; experiences that include over 250 varieties of tropical fish that school in cobalt blue water as clear as glass.

Discover Molokini aboard Paragon II, where your trip includes a sumptuous continental breakfast on the leisurely sail across Maalaea Bay. Enjoy the tropical landscape that makes Maui special, and during whale season (December - May), spot humpback whales as they birth and breech nearby. While at Molokini, indulge in the gourmet buffet lunch; refresh with icy cold beverages. Swim, snorkel, and rinse off with our fresh hot/cold water shower.

Aboard Paragon II, you will experience the thrill of a lifetime! The afternoon trade winds provide the backdrop as Paragon II reaches speeds in excess of 20 knots! Join Paragon's friendly crew at the helm and reach for the speed record of the day!

Morning Molokini Snorkel & Performance Sail
5 hours (Molokini weather permitting)
7:30 a.m. to 12:30 p.m. - Check-in 7:15 a.m. at Maalaea Harbor
Includes snorkel gear and floatation devices, continental breakfast, buffet lunch, beverages. Kids sail 1/2 price. Limited to 38 passengers per trip.

Reserve Your Trip Today!


Turtles, manta rays, exotic tropical fish... Coral Gardens features a unique blend of sea life tucked into the cliffs near the West Maui mountains. This afternoon adventure aboard Paragon II also features boat speeds in excess of 20 knots, as the afternoon trade winds fuel this three-hour excursion. Enjoy hors d'oeuvres, sodas and exceptional snorkeling. Coral Gardens aboard Paragon II ~ the perfect outing for any afternoon.

Coral Gardens & Performance Sail
3 hours
1:30 p.m. to 4:30 p.m. - Check-in 1:15 p.m. at Maalaea Harbor
Includes hors d'ouvres, beverages. Kids sail 1/2 price. 38 passengers per trip.

Reserve Your Trip Today!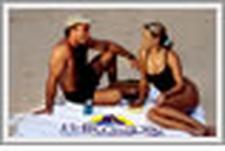 Paragon Sailing Charters proudly announces their newest snorkel sail destination, the exclusive island of Lana'i. Known as the pineapple island, Lana'i's hidden secrets include spinner dolphins off the white sand beach at Manele Bay. The underwater treasures are so unique that Lana'i has been rated one of the top 10 snorkel destinations in the world.

As a discriminating visitor to Lana'i, your adventure aboard Paragon begins at historic Lahaina Harbor with an 8:15am check-in. A deluxe continental breakfast is served as you enjoy the panoramic view of the islands of Maui, Molokai, Kahoolawe and Hawaii in the distance. The white sand and pristine water of Manele Bay is your mid-day Lana'i destination. When we arrive, you will discover one of the most beautiful beaches in Hawaii, Hulopo?e Beach. Enjoy your picnic lunch as you lounge on grass mats, or snorkel the underwater world of Hulopoe Bay ? one of Hawai?i?s most incredible snorkeling destinations. On the return sail, Paragon often stops just off Maui for our specatular blue water swim. This refreshing swim break is a wonderful compliment to the many details Paragon offers on our Lana'i tour. Paragon Sailing Charters provides a first class experience for all.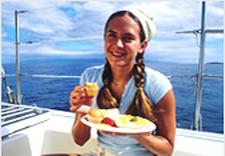 A Maui experience is not complete without the pure beauty only witnessed at sunset. Paragon Sailing Charters proudly offers a sunset excursion, complete with hors d'ouvres and beverages, including beer, wine & Mai Tais. Enjoy the dramatic antics of the humpback whales during whale season, December-May. (Departure times adjusted to seasonal sunset patterns.)

Lahaina Champagne Sunset Sail
2 hours - Monday- Wednesday-Friday only
Includes hors d'ouvres, beverages including beer & wine, champagne & Mai Tais! Reserve Your Trip Today!
Cancellation Policy: 24-hour Cancellation Policy for individual bookings; 72-hours for groups of over 10 passengers and 7-days for private charters.