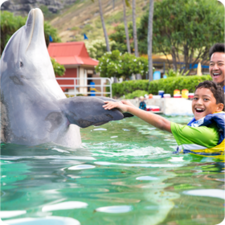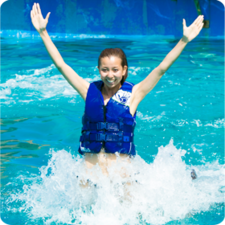 Adult Price:
$261.77
-
Members Price:
$261.77
Child Price:
$261.77
-
Members Price:
$261.77
Activity Times : 9:30am, 11:00 am, 1:45pm, and 3:15pm
Total Duration: 45 mins
Water Time: 30 mins
**8 persons max per session

This interactive program features two dolphins and can be summarized in two words: exhilarating and thrilling. An affectionate handshake and a kiss on the cheek prepares you for an exciting dorsal fin ride. The most breathtaking moment is during the foot push, when you feel all the strength and energy of these wonderful animals as they push you across the water from the bottom of your feet. This is truly an experience of a lifetime. Photos with your dolphin are available for purchase weather permitting.

Program Times
Daily - 9:30 am, 11:00 am, 1:45 pm & 3:15 pm
Based on availability

Things you should know before your visit:
*Park admission is included with the program.
*It is important to arrive 30 minutes before the start of your reserved program at Sea Life Park Hawaii
*Bring your own towel and swimwear. Changing facilities are available.
*Use only biodegradable sunscreen to protect the animals and their environment. Approved sunscreen is available in our gift shop.
*Children 8 – 12 years old must be accompanied in the water by a paying adult (18 years or older)
*Children 13 years old and older may swim on their own during the program
*Program lasts approximately 45 minutes (30 minutes in the water)

Royal Dolphin Swim Requirements
*The use of safety vests is required for all participants. Approved vests are provided to participants.
*Participants must be at least 8 years old, well-behaved, and able to follow all instructions
*Must be in good physical condition, without back or neck problems--this is a physical activity
*Due to the physical nature of this program, pregnant women are not allowed to participate
*Anyone acting in a manner which threatens the safety of the animals, themselves, or other people (including; without limitation, unruly or disruptive behavior, or failure to follow directions), may be removed from the activity without a refund
*All participants or their legal guardians are required to sign a release of liability and waiver form before participating
**Transportation must be reserved 48 hours prior to your interactive program date.