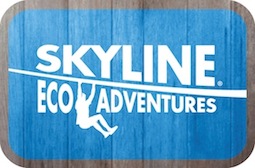 Skyline Eco-Adventures owns, operates, and franchises leading zipline adventures on Maui, the Big Island and Kauai in Hawaii. Since 2002, when Skyline opened the United States original zipline adventure in Maui, Skyline has safely conducted nearly two million customer zipline crossings, more than any other U.S. based zipline company. Throughout our zipline tours guests learn about the unique environment and culture of the places in which Skyline operates; and a portion of all sales are donated back to protecting those irreplaceable things. Skyline Eco-Adventures recently launched the zipline industry's first comprehensive franchise program, designed to let people around the United States and abroad bring Skyline's unique blend of adventure and environmental consciousness to their favorite travel destination. Whether you plan to visit Maui, the Big Island or Kauai in Hawaii, you will find unmatched fun and adventure at any of Skyline Eco-Adventures' award winning locations!
ACTIVITIES: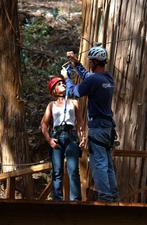 The 1 1/2-hour Haleakala tour is the perfect part of any visit to Upcountry Maui, as you are able to experience the thrill of zipping, while still having plenty of time to enjoy everything else available in the area, including Maui Lavender Farm, Pony Express, Haleakala Crater, Tedeschi Winery, shopping and dining in Kula and Makawao, and many other exciting activities and sites. Each of the ziplines on this 5-line course is named after an endangered Hawaiian bird native to Maui, so you will learn a few things along the way too! Whether you are a first-time zipper or an seasoned airborne traveler, part of a group of friends or a newlywed couple, a local resident or a visitor to the islands, this tour is one you will want to visit.

The Haleakala Skyline Tour combines the beauty of a 1/2-mile forest hike, with the excitement of soaring over gulches and through the trees on our series of five ziplines. Each zipline gets longer, higher, and more exciting than the one before it. This is a perfect adventure for the whole family and an ideal stop right on the way to the world famous Haleakala Crater. The tour takes between 1 and 2 hours depending on group size.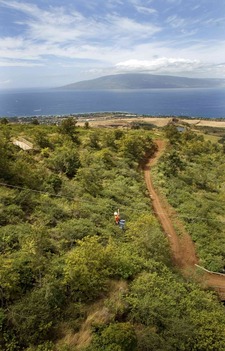 High above Maui's Ka'anapali resort, amidst the verdant valleys of Mount Kahalawai, an incomparable adventure awaits!

This land steeped in legend, with panoramic views, plunging cliffs, and lush valleys, plays host to a zipline adventure unlike any other in the world. The adventure begins with an exciting off-road drive deep into the rugged and beautiful lands above Ka'anapali. Once there, eight amazing ziplines allow you to soar high above seasonal streams as you experience this piece of wild Hawaii. From mountain to sea this inaccessible world, just minutes from Ka'anapali, is now within reach.

Come with us on this afternoon adventure, and learn about Maui's rich history and biological diversity. Overlooking the Kingdom of Hawai'i's former capitol, you will experience a perspective that takes you back in time where you can envision the story of Hawai'i unfolding before your eyes. See the islands as you never have before and take part in what is being called "Hawai'i's best all around adventure".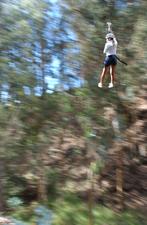 Experience the magical Maui sunrise on-top of Haleakala's summit at 10,000 feet inside Haleakala National Park and then enjoy a bicycle safari down the mountain where you will gently descend 21 switchbacks on the Western slope of the worlds largest resting volcano. You will then arrive at Skyline's Haleakala Zipline course and Maui Lavender Farm where you will begin your Zipline adventure on the 1st Zipline course in the U.S. including Maui's only "Pendulum" Zipline where you reach speeds of 45+mph. and Zip forwards and backwards!
Cancellation Policy: Please check here to acknowledge our 24 hour cancellation policy.