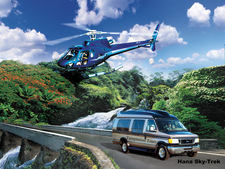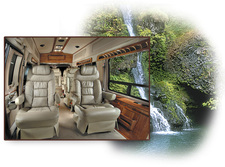 Adult Price:
$534.28
-
Members Price:
$508.44
AM HANA SKY-TREK
Double Your Fun - 1/2 Day Exploration!

* Award Winning Limo-Van & Helicopter sightseeing combo. Truly the Best of Both Worlds!
* Combine a Hana/Haleakala helicopter fight and the Hana Limo-Van tour into one exciting package.
* Ride with Temptation Tours for a hands-on experience of tropical exploration.
* Many sightseeing and photo stops, waterfall or ocean swim PLUS a tropical gardens tour.
* Scrumptious picnic lunch, elegantly served at one of Hana's black-sand beaches.
* Fly reverse leg in "A-Star" style, to dramatic waterfalls hidden in the remote area of Maui's rainforest.
* Soar high above Haleakala Crater, the world's largest dormant volcano.
* Morning tours (7:00 AM - 1:15 PM) begin with check-in at 7:00 AM at the Kahului Heliport, board on our Luxury Limo-Van for Hana, and after lunch, fly back on helicopter.

Toll-Free: 1-800-817-1234
On Maui: 1-808-877-8888
Email: Reservations@TemptationTours.com

Tour Operates Daily

Pacific Rim Cuisine Luncheon Menu: Southpointe Grilled Herb Marinated Chicken Breast, Kula Mix Organic Greens, Roasted Corn & Black Bean Relish, Buttermilk Ranch Dressing and a Roasted Garlic Tortilla and also Pacifica Lightly Blackened 7 Spice Seared Ono, Kula Organic Green Leaf Lettuce, Black Olive & Caper Relish, Wasabi Aioli Spread and a Sundried Tomato Tortilla, Fresh Garden Vegetable Pasta Salad with Basil Pesto Vinaigrette, Chilled Maui Gold Pineapple and Volcano Triple Chocolate Fudge Brownie with Toasted Hamakua Grown Macadamia Nuts.
Vegetarian Entrée Option: Fresh Lettuce Wrap filled with Grilled Veggies.
Luncheon elegantly served on linen tablecloths with linen napkins, crystalline plates, and flatware.

Accommodation Information:
I accept that to cancel any tour purchased online and receive my authorized cancellation number, I must call 1-800-817-1234 by 7 AM (Hawaii Standard Time), no less than 3 days prior to tour date, in order to be eligible for a refund. No refund for no shows.