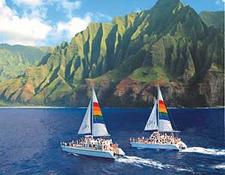 Adult Price:
$221.62
-
Members Price:
$177.30
Youth Price:
$205.41
-
Members Price:
$164.33
Child Price:
$189.19
-
Members Price:
$151.35
No visit to Kauai is complete without an adventure along Napali Coast! Blue Dolphin Charters is proud to run the two largest motor sailing catamarans on Kauai specializing in tours of Napali Coast and the forbidden island of Niihau. Whether you are here for a family vacation, honeymoon or looking for a new adventure, Blue Dolphin Charters will make your trip to Kauai a memorable experience for years to come!

Our most popular morning tour guarantees that you will see dolphins! Take in the view of the island on the way to your snorkel destination. Breakfast and lunch are included as well as all the snorkel equipment. After the snorkel stop we open the bar and it's beer, wine and our famous Mai-tais all the way back to Port Allen.

Some of the amenities we have on board include a waterslide, trampolines, upstairs observation deck, two restrooms, and freshwater showers. You will view sea caves, waterfalls and the majestic 4000 foot cliffs of Napali on this tour.

Things to Bring: Towels, camera, hats, sunglasses, and sunscreen.

Scuba is temporarily unavailable on this tour.
Accommodation Information:
By checking here I acknowledge that there are no expecting mothers or children under 2 years old in our group (5 years old for the Niihau tour and 8 years old for raft tours). I also understand that there are no refunds for cancellations made less than 24 hours before the tour (72 hours for groups of 10 or more).