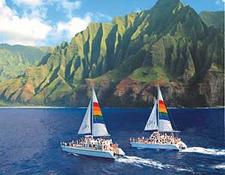 Adult Price:
$200.00
-
Members Price:
$160.00
Youth Price:
$183.78
-
Members Price:
$147.02
Child Price:
$167.57
-
Members Price:
$134.06
No visit to Kauai is complete without an adventure along Napali Coast! Blue Dolphin Charters is proud to run the two largest motor sailing catamarans on Kauai specializing in tours of Napali Coast and the forbidden island of Niihau. Whether you are here for a family vacation, honeymoon or looking for a new adventure, Blue Dolphin Charters will make your trip to Kauai a memorable experience for years to come!

The afternoon sunlight streaming into the valleys along Napali Coast is an unforgettable sight. This tour includes a luau-style dinner and drinks. Scuba and snorkeling are not available on this tour.

Things to Bring: Camera, hats, sunglasses, sunscreen, and a light jacket or windbreaker.

ALL TOURS ARE WEATHER PERMITTING.
Accommodation Information:
By checking here I acknowledge that there are no expecting mothers or children under 2 years old in our group (5 years old for the Niihau tour and 8 years old for raft tours). I also understand that there are no refunds for cancellations made less than 24 hours before the tour (72 hours for groups of 10 or more).