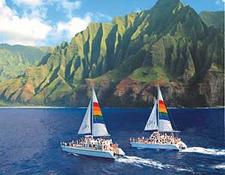 Adult Price:
$129.73
-
Members Price:
$103.78
Youth Price:
$113.51
-
Members Price:
$90.81
Child (2-11) Price:
$97.30
-
Members Price:
$77.84
Celebrate with us on this short and sweet sunset cruise along the serene and peaceful southern coast of Kauai. Set against beautiful ocean vistas and majestic mountains, this is the best way to see one of the most stunning sunsets on the island of Kauai. Appetizers are served during the tour and our all inclusive open bar is available as soon as the boat leaves harbor. Relax, pop open some champagne and toast to life as the sun drops below the horizon for a beautiful moment that will be remembered for a lifetime. Whale watching from December - March.

Things to Bring: Camera, hats, sunglasses, sunscreen, and a light jacket or windbreaker.
Accommodation Information:
By checking here I acknowledge that there are no expecting mothers or children under 2 years old in our group (5 years old for the Niihau tour and 8 years old for raft tours). I also understand that there are no refunds for cancellations made less than 24 hours before the tour (72 hours for groups of 10 or more).