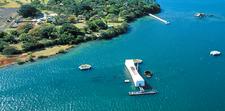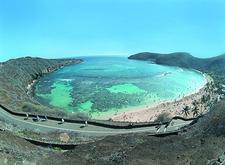 Adult Price:
$120.94
-
Members Price:
$120.94
Child Price:
$95.81
-
Members Price:
$95.81
Lap Child Price:
$0.00
-
Members Price:
$0.00
This all-encompassing tour lead by an E Noa tour guide whose knowledge and love of the island will leave you wanting to come back for more. It's a great value including any required admission fees and we'll make sure you get lunch!

Your day begins at sunrise as you head out to re-live a striking historical moment in time at the World War II Valor in the Pacific Monument and USS Arizona Memorial. In this quietly moving place, you experience the history, tragedy, and heroism of the attack that propelled the U.S. into World War II. Take a boat ride out to the 184-foot USS Arizona Memorial structure that actually spans the mid-portion of the battleship itself as it rests on the harbor floor.

Stops and sites on Pearl Harbor and North Shore Tour may include:
*World War II Valor in the Pacific Monument
*USS Arizona Memorial
*Wheeler Army Airfield/Schofield Barracks
*Dole Plantation Visitor Center
*North Shore Surfing Beaches including Sunset Beach, Pipeline, and Waimea Bay
*Complimentary Lunch included
*Ko'olauloa Coastline
*Nu'uanu Pali Lookout (site of 1795 Battle of Nu'uanu)
*Oahu's Eastern Shoreline:Including Waimanalo, Makapu'u, and Sandy Beach
*Halona Blowhole and Lookout
*Hanauma Bay Lookout (Closed every Tuesday)
*Kahala Mansions and Diamond Head Slopes
*Return to Waikiki (Approximately 4:30pm)

**Security restrictions at Pearl Harbor will be enforced. Please do not bring large bags or anything that could offer concealment. Storage is available at Pearl Harbor for $6.00.
*Driver reserves right to adjust route for maximum visitor enjoyment and safety.
*Lunch stop en route included.
**Be ready for spur-of-the-moment stops, unexpected views and special sightseeing along the way!

Attire: Dress comfortably but please remember that shirts and shoes required on the USS Arizona Memorial; swimsuits not permitted. Bags not allowed in Pearl Harbor Visitor Center but if needed may be checked and stored for $6.00 per item.