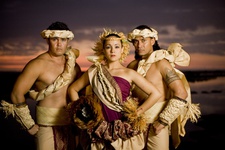 Adult Price:
$471.22
-
Members Price:
$471.22
Child Price:
$235.61
-
Members Price:
$235.61
Infant Price:
$0.00
-
Members Price:
$0.00
Come together as 'ohana at the beautiful Mauna Lani, Auberge to celebrate with a traditional lū'au in a place known for it's ho'okipa (hospitality) and aloha 'aina (love of the land). Guests are welcomed to be a part of a celebration as the people of this ahupua'a (land area), known as Kalahuipua'a, gather and exchange the bounty and stories collected from the mountains to the sea.

The Ali'i package provides restaurant style seating, a Hawaiian style dinner, complimentary welcome cocktail, soft drinks, preferred seating section, wine service, one printed photo for the party, a lei per guest, and a Hawaiian performance.

Accommodation Information:
Customers will receive a full refund with 72 hours notice of cancellation prior to the event. Nonattendance without notice will be assessed the full cost of the tickets.