Haleakala, Hale = House + akala = Sun in Hawaiian or "House of the Sun." This National Park is one of two National Parks in Hawaii. The other is Volcanoes National Park on the Big Island. There are also National Historic Parks, Monuments, Trails, and Sites. This dormant volcano is one of the tallest mountains in the world if you measure from the ocean floor. It's summit is 10,017 ft above sea level. With it's prominence at 10,023 ft (3,055 m). There are two park entrances, each with different activities: SUMMIT & KIPAHULU. The summit is, as the name would suggest, at the top of the crater. To access, one must travel "upcountry" through Pukalani, Makawao, and Kula. Visits to the summit are most popular during sunrise and sunset. Kipahulu is just past the remote excluded town of Hana, in Kipahulu. Kipahulu is where Ohe'o Gulch is located. This location used to be called "Seven Sacred Pools." This name is no longer used publicly as it is inaccurate. There are far more than seven pools, and the location is not sacred. It is, however, one of the most magically beautiful locations on Maui. Both locations have trails to hike and places to camp. Visit the website for more information.
ACTIVITIES: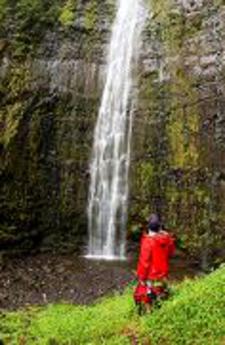 The most common activities for those visiting the Coastal Park are:
- Hiking
- Swimming in Pools & Waterfalls
- Camping

This area's proper name is Ohe'o Gulch. It used to be called the Seven Sacred Pools, due to the series of waterfalls and pools descending from Haleakala to the ocean. The name, Seven Sacred Pools, is no longer considered appropriate as there are many more than seven pools and culturally the area is not known as sacred. It is significant for sure and one of the most beautiful places on Maui.

One only has to hike about 5 minutes for the best view of the pools. This is nice after you've completed the 2-4 hour, 52 miles (from Kahului) legendary road to Hana, with 620 curves and 59 often one lane bridges.

When there is no threat of flash floods, swimming in the pools is magical! Bring a swim suit & towel, just in case. There is also a 4 mile, round trip, hiking trail across the street, Pipiwai Trail. Bring sun and rain protection, water, food, and wear sturdy, close-toed shoes.

This trail winds through a freshwater stream and diverse forest areas with views of waterfalls and other natural features. People often feast on the strawberry guavas which grow wild along the trail. This is moderately strenuous with an 800-foot elevation change each way.

A Ranger guided hike is offered weekly at 10:00 am on Sunday along this trail. It is offered on a reservation basis. Call 808-248-7375 for reservations, must be one week in advance.

If driving yourself, stop along the way. There are many places & sites to visit along the road. Here's a great article on this drive (http://hawaiiattractions.com/2015/08/20/going-hana-maui/). If you would rather sit back and let someone else drive, consider one of the many guided tours companies which feature this destination.

There is a road to the south that you can take to get to Kipahulu. However, several miles of the road is "rough and unpaved". Rental insurance doesn't cover you on that road, so we didn't risk it, but if you have a good four wheeling jeep or something you may want to try it! Going this way you'll come out upcountry at the only winery on Maui, Maui Wine.

The Park, including Restrooms, is open 24 hours a day, seven days a week, except when the park is closed during severe weather events. Please check park alerts on their website for information on closures.

The most common activities for those visiting the crater are:
- Watching the Sunrise **Most Popular/Reservations Required**
- Riding a Bicycle Down the Mountain
- Hiking in and around the Crater
- Watching the Sunset
- Star Gazing

For the Sunrise* reservations are required. One reservation per vehicle if driving yourself. Be prepared to rise around 3-4am to make the two hours long drive up to the summit. The road is windy with sharp switchbacks.For additional detailed information visit: nps.gov/hale/planyourvisit/index.htm

If you're not comfortable with doing this in the dark, look into one of the many guided tours available.

The reservation system is for sunrise park visitors traveling in personal or rental vehicles. The system was implemented (02/01/2017) and ensures visitor and employee safety, protect natural and cultural resources, and provide a quality visitor experience at the Haleakala summit during
sunrise hours (3 am to 7 am). To make reservations go to http://www.recreation.gov.

The one-day, non-transferable $1.50 sunrise Reservation is not sold at the park. It is ONLY available online at recreation.gov, from 60 days in advance until 4 pm the day before a planned visit. After 4 pm, no more reservations are offered (for the next day's sunrise).

To enter the Summit District between 3 am and 7 am, the reservation holder must be present and show both the one-day sunrise reservation receipt (for that day) and a photo ID (matching the reservation name).

It's frigid and windy. If you didn't bring your parka, no worries, hotel blankets are a common occurrence. The sunrise is spectacular if there is not a dense cloud cover. You'll see the entire color spectrum in the sky. This experience is also viewable at Sunset, without the large crowd of visitors.

Haleakala Summit is also home to a unique and almost moon-like landscape and vegetation. One plant, the silversword, is endemic to Haleakala. It doesn't grow anywhere else on earth!

If you arrive at the park at a time when the entrance station is closed, please pay the entrance fee at the automated fee machine (Credit Cards Only).

The entire park, including the restrooms, are open 24 hours a day, seven days a week, except when the park is closed during severe weather events. Please check park alerts on their website for information on closures.