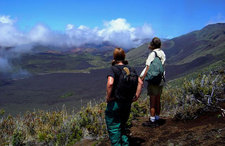 Annual Pass Price:
$25.00
-
Members Price:
$25.00
Per Vehicle Price:
$20.00
-
Members Price:
$20.00
Motorcyle Price:
$15.00
-
Members Price:
$15.00
Pedestrian Price:
$10.00
-
Members Price:
$10.00
The most common activities for those visiting the crater are:
- Watching the Sunrise **Most Popular/Reservations Required**
- Riding a Bicycle Down the Mountain
- Hiking in and around the Crater
- Watching the Sunset
- Star Gazing

For the Sunrise* reservations are required. One reservation per vehicle if driving yourself. Be prepared to rise around 3-4am to make the two hours long drive up to the summit. The road is windy with sharp switchbacks.For additional detailed information visit: nps.gov/hale/planyourvisit/index.htm

If you're not comfortable with doing this in the dark, look into one of the many guided tours available.

The reservation system is for sunrise park visitors traveling in personal or rental vehicles. The system was implemented (02/01/2017) and ensures visitor and employee safety, protect natural and cultural resources, and provide a quality visitor experience at the Haleakala summit during
sunrise hours (3 am to 7 am). To make reservations go to http://www.recreation.gov.

The one-day, non-transferable $1.50 sunrise Reservation is not sold at the park. It is ONLY available online at recreation.gov, from 60 days in advance until 4 pm the day before a planned visit. After 4 pm, no more reservations are offered (for the next day's sunrise).

To enter the Summit District between 3 am and 7 am, the reservation holder must be present and show both the one-day sunrise reservation receipt (for that day) and a photo ID (matching the reservation name).

It's frigid and windy. If you didn't bring your parka, no worries, hotel blankets are a common occurrence. The sunrise is spectacular if there is not a dense cloud cover. You'll see the entire color spectrum in the sky. This experience is also viewable at Sunset, without the large crowd of visitors.

Haleakala Summit is also home to a unique and almost moon-like landscape and vegetation. One plant, the silversword, is endemic to Haleakala. It doesn't grow anywhere else on earth!

If you arrive at the park at a time when the entrance station is closed, please pay the entrance fee at the automated fee machine (Credit Cards Only).

The entire park, including the restrooms, are open 24 hours a day, seven days a week, except when the park is closed during severe weather events. Please check park alerts on their website for information on closures.