Phone: 808-335-0815
Toll Free: 800-848-6130
Year Established: 1998
Get to the fun faster..
ACTIVITIES: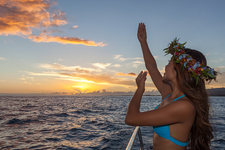 Witness a transformation from day to night like no other as Kauai's sky illuminates and its diverse coastline deepens under hues of red, orange and yellow. Enjoy an amazing ride and sumptuous food and beverages aboard Holo Holo Charter's Holo Holo power catamaran, the fastest and most comfortable tour boat on Kauai. The sun may fade, but the memories will last forever. Please be sure to book your adventure in advance by calling 808 335-0815 or toll free 1-800-848-6130. To learn more visit www.holoholocharters.com
Cancellation Policy: 24hr. cancellation policy: 50% charge for cancellations less than 24hr. 100% charge for no shows Large parties consisting of (6) six or more passengers are required to cancel (7) seven days prior to scheduled check-in time on their tour date to avoid penalities. All tour routes and snorkel destinations are subject to change or may re-route due to weather and sea conditions.