Phone: 808-245-3774
Toll Free: 888-245-2001
Year Established: 1975
The Originator of Helicopter tours on Kauai. Dedicated to safety and quality since 1962. Join Jack's hand-picked pilots on a 60 or 90-minute adventure over Kauai's lush green valleys, stunning canyons and spectacular coastlines.
ACTIVITIES: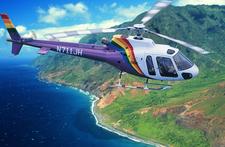 Our 60-65 minute tour is the longest one hour tour on Kauai. An adventure into Kauai's remote wilderness and coastlines is a wonderful experience. We feel that it takes at least one hour of in-air time to truly show Kauai's varied landscapes and ecosystems. Most "one-hour" tours are in the air for 55 minutes. The extra 5-10 minutes of flight time allows your pilot to go slower and lower in scenic areas providing the highest quality "one- hour tour" available! Our custom-designed, air-conditioned, 6-passenger AStar Helicopter was built specifically for tour flights over Kauai. We have the largest front seats available in an AStar. The large doors on our AStars have huge floor-to-celiling windows for great visibility.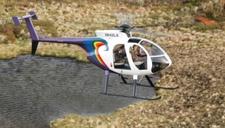 This tour is flown in our 4-passenger Hughes 500 helicopter which we fly with the doors removed. Flying in a helicopter with the doors off can be a thrilling experience for those looking for adventure. The tour covers the same areas and is flown in the same safe manner as the 60-65 minute tour in our AStars. An adventure into Kauai's remote wilderness and coastlines is a wonderful experience.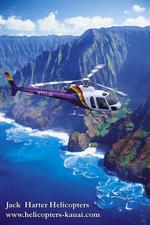 This is the longest helicopter tour available on Kauai. Our 90-95 Minute Tour is a photographer's dream! This flight is flown at slower speeds and explores deeper into Kauai's valleys and canyons. The pilot is able to turn the helicopter more often, setting up fantastic photographic opportunities. This is Jack's favorite tour and his hallmark. We are the only company on the island that offers a tour of this length. This is by far the best and the most detailed helicopter tour available on Kauai. At the present time, we only fly this tour in our 6-passenger AStar Helicopters.
Cancellation Policy: 24-hour cancellation notice required. Charges are non-refundable for cancellations made within 24 hour of flight departure. Processing fees are non-refundable at the time the reservation is made.