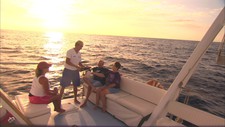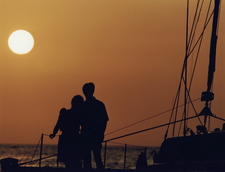 Adult Price:
$139.00
-
Members Price:
$139.00
Child Price:
$69.50
-
Members Price:
$69.50
Infants Price:
$0.00
-
Members Price:
$0.00
Mahalo for choosing the Ocean Sports Pau Hana Sunset Cruise with the Whales.
We combine unparalleled views of the coastline from our stable and well-appointed sailing and power catamarans with the biggest party guests of all -- the Humpback Whales! Our onboard naturalist will answer all your Humpback questions and interpret the whales' behaviors. Sip on canned soft drinks and tropical juices and a selection of beers and wine, and crunch on a variety of individually wrapped bar snacks (please note: due to COVID-19 regulations, snack selection will vary). If you'd like to bring your own alcohol aboard, we can keep it icy cold till you're ready to enjoy it! Humpback sightings on this cruise are not guaranteed...but we know you'll love this Sunset Celebration – it's a perfect start to your evening in paradise!
Cruises scheduled on the vessel Alala, are not sailing trips...you'll be cruising under power. Choose Anaeho'omalu Bay departures for real coastal sailing.

To give your evening a romantic spin, we invite you to participate in our "Ceremony at Sea" vow renewal. We'll provide a personalized ceremony and certificate commemorating your special evening, Hawaiian Style lei, and champagne toast. **Additional fee applies and advance reservations are required for Vow Renewal.
Accommodation Information:
Transportation:
No Transportation
4 PM Check-in at Abay Beach Hut
4 PM Check-in at Kwhe Whale Center
Cancellation Policy: If you need to cancel your reservation with us, please do so 24 hours prior to your scheduled activity to receive a full refund. If you need to cancel less than 24 hours prior, you'll be charged the full fare. Cancellations on our Catamaran cruises due to weather are at the sole discretion of the Captain. Cancellation terms for blocks or Exclusive Charters may vary as agreed. Cancellations due to COVID-19 symptom presentation will be refunded 100%.