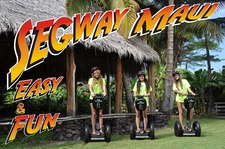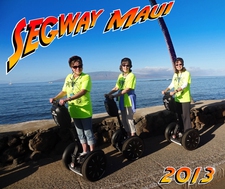 Guest Price:
$728.15
-
Members Price:
$728.15
Tour Duration: 3 hours

Unique Small Group Experience.

Custom made Segway tour based on our staff and guides experience.

Begin with personalized Segway training and off you go to Maui destinations only known to you and your guide.

Private tours with Segway Maui consist of only your group with a guide. We believe in a personal, hands on approach that makes any group outing a blast! These tours are at a premium due to being scheduled further in advance, increased tour flexibility, and other special considerations. We can add virtually anything that would make your trip unique and fun for you. You can email at info@segwaymaui.com for more info or to book your private tour today.

INCLUDED:
Fun Instruction and in-depth knowledge of technical and practical usage.
Customized Complimentary Picnic Based on Your Preferences
Famous "Don't Hit Me" T-Shirts (Free to keep as a souvenir)
Helmets
Travel bag for lightweight belongings
Select your favorite pictures and let us frame them for you. Get HQ video from your tour on a disc.
Flexible on time

Up to 4 hours

What to bring: closed shoes, sun screen, sun glasses.

Bottled water and other refreshments including snacks are available at the office for a purchase.

Safety helmets are a must and are provided for each rider at no extra charge as well as safety reflective T-shirts
Major bank credit card and/or deposit are required

Cancellation Policy: Please note: Private Tour cancellations must be made at least 48 hours in advance.