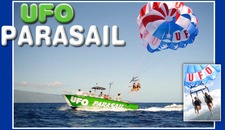 Out of this World Ride (1200 feet) Price:
$117.40
-
Members Price:
$99.79
Deluxe Ride (800 feet) Price:
$106.63
-
Members Price:
$90.64
Observer Price:
$52.77
-
Members Price:
$44.85
Parasailing on Big Island with UFO Parasail & Adventures is an exciting and entertaining experience. One that few will ever forget!

Start your excursion with a scenic boat ride depart from Kona while waiting for your turn to rise above it all. Our boats are USCG certified to carry a maximum of 12 passengers; however, we cap our trips at 8 passenger per boat to ensure more time in the air and less time on the water. We can still accommodate up to 10 passengers if requested by larger group who like to stay together.

When it is your turn, we will securely harness you to the parasail and launch you into the air. Slowly you'll rise into the air, above and behind the boat. The view is breathtaking and awe inspiring! You have the choice of flying alone, tandem, or even triple. For both our Deluxe 800 foot Ride or Out of This World 1200 foot Ride, Single, double, or triple rides fly approximately 8 minutes. Both take-off and landings are completely dry and totally safe for all ages and skill levels.

Parasailing is conducted year round in Kona. Please call us for additional times, other than those listed, at 800-359-4836 Big Island from 7am - 6pm HST. Find us in the lobby of the Courtyard Marriott's King Kamehameha Kona Beach Hotel near the Kailua Pier

Accommodation Information:
Cancellation policy: 24 hour cancellation required for full refund. Weight restrictions: Minimum weight to fly alone is 160lbs; Maximum weight to fly alone, tandem, or triple is 450lbs. Weight restrictions may be increased or decreased by the captain, depending on wind or sea conditions, on that date. Please note that refunds are not issued based on your preference to fly alone, tandem, or triple. Participants must be willing to parasail at the captain's discretion for safety. Physical Restrictions: Participants must be able to walk down the dock and board the parasail vessel with minimal or no assistance. The boats are not wheelchair accessible. Age Restrictions: Minimum age to parasail or ride on the boat as a paying observer is 5 years old. The observer fee is $39 per person. All participants are required to sign liability waivers before participating in this activity; parent or adult legal guardian must sign liability waiver for any participating minors under 18 years old. Duration: Although the total time on the boat is approximately 1 hour, for our Out-of-this-World 1200 foot ride and Deluxe 800 foot ride, single, double, or triple rides fly approximately 8 minutes. There is a maximum 6-8 passengers per trip in Kona.