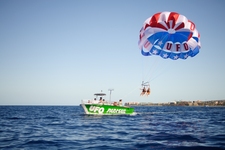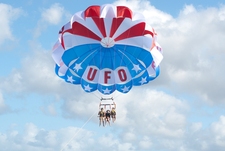 Out of this World Ride (1200 feet) Price:
$95.38
-
Members Price:
$81.07
Deluxe Ride (800 feet) Price:
$84.66
-
Members Price:
$71.96
Observer Price:
$41.80
-
Members Price:
$35.52
Both our Deluxe and Out-Of-This-World rides are 8 minutes long for a single flyer and 10 minutes long for tandems/triples. Check in time is 45 minutes prior to your reservation time. We are located inside the Courtyard Marriott King Kamehameha Hotel lobby (75-5660 Palani Rd, Kailua Kona, HI 96740). A 24 hour cancellation required for a full refund.

Active MILITARY fly for free and their families fly at half off. Call 800-359-4836 for military reservations in Kona.
Out of this World Ride (1200 feet) :

Deluxe Ride (800 feet):

Observer:
Accommodation Information:
Cancellation policy: 24 hour cancellation required for full refund. Weight restrictions: Minimum weight to fly alone is 160lbs; Maximum weight to fly alone, tandem, or triple is 450lbs. Weight restrictions may be increased or decreased by the captain, depending on wind or sea conditions, on that date. Please note that refunds are not issued based on your preference to fly alone, tandem, or triple. Participants must be willing to parasail at the captain's discretion for safety. Physical Restrictions: Participants must be able to walk down the dock and board the parasail vessel with minimal or no assistance. The boats are not wheelchair accessible. Age Restrictions: Minimum age to parasail or ride on the boat as a paying observer is 3 years old. The observer fee is $39 per person. All participants are required to sign liability waivers before participating in this activity; parent or adult legal guardian must sign liability waiver for any participating minors under 18 years old. Duration: Although the total time on the boat is approximately 1 hour, for our Out-of-this-World 1200 foot ride and Deluxe 800 foot ride, singles fly for 8 minutes and doubles/triples fly for 10 minutes. There is a maximum 6-8 passengers per trip in Kona.