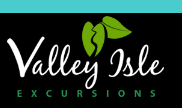 Phone: 808-871-5224
Toll Free: 877-871-5224
Year Established: 1997
We are Maui's only luxury Hana tour company that goes to Hana and continues on the road past Hana. Let me share with you a few highlights about our tour and what makes us different from the other Hana companies. Your day begins with us picking you up at your hotel or condo. We keep our groups small by only taking a maximum of twelve passengers per van, unlike the economy companies. Once you step inside our van you'll know why we call ourselves luxury. They include very comfortable extra wide reclining captain chairs with arm rests; oversized tour windows for your viewing pleasure; and climate controlled air conditioning are all of but a few of the amenities aboard our tour. Beverages are kept ice cold and are available to you all day long. All tours are conducted by our professional guides that will share with you the history, legends, stories, and personal insight that make our company unique. Our tour includes a delicious continental breakfast which is the first of many stops . In fact, we make about 4 1/2 hours of stops throughout the entire day; that's almost half the tour. Stops include the beautiful lava formations of Keanae; Water falls; Wailua overlook; the black sand beach at Wainapanapa; Hana bay; Hana flower gardens; Hana Wailua falls; Oheo gulch (seven pools); Lindberg's memorial; to name just a few. We pride ourselves in making more stops for longer times than any other Hana tour company, including spending more time for swimming at the Oheo gulch. Once in Hana we will stop for an incredible hot picnic buffet style lunch including a BBQ baked boneless skinless chicken breast; macaroni salad; garden salad; fresh rolls; condiments; and desert. We can also accommodate vegetarians. The lunch is served on a white linen tablecloth with glass china plates and real silverware. You will arrive back at your hotel at approximately 5:00 pm to 6:00pm. In total, a full and beautiful 10 to 10 1/2 hour tour. Our advertised price for the Luxury Hana tour is as follows: Adults: $141.99 Seniors (60 years or better): $131.99 Children (12 and below): $103.99 All prices are subject Hawaii State tax of 4.166% and a $5.20 per person Fuel Surcharge. To secure the seats on the day you desire please call our resevation line, we are open from 7 am to 6 pm, Hawaii time, 365 days a year. If you have any other questions please feel free to contact us. Our toll free number is 1-877-871-5224. Direct line is 808-661-8687. Our Web site is http://www.tourmaui.com
ACTIVITIES:
Come join us and prepare to be pampered as you tour in air-conditioned comfort in our 12 passenger luxury vans. Relax in the comfort of your reclining captain's chair (no uncomfortable bench seats allowed!). Begin your tour with a Hawaiian continental breakfast. Enjoy a delicious buffet lunch: Baked Barbecue Chicken, salads, all served with china, silverware and linens (no box lunches or plastic utensils for our passengers!) Quench your thirst on complimentary beverages served throughout the day. Hana's Black Beach at Waianapanapa State Park. Swim the pools of Oheo, at Haleakala National Park. Stop at 13 tour locations, memerable photo opportunities, over 4 hours worth of stops!. Compare our tour with any other Hana tour and we know we'll see you soon!

P.S. We know where all the bathroom stops are.

Please note: Price includes all taxes and fees. (Hawaii sales taxes of 4.166% and a fuel surcharge of $5.20 per person.)
Cancellation Policy: We suggest you make your reservation now, for we don't charge your credit card until the afternoon before the tour and with our 24 hour cancellation policy you can book your reservation now to secure the seats on the day you want to go, and if needed you may cancel or make changes out side the 24 hour cancellation period with no penalty. If you have any other questions please feel free to contact us.