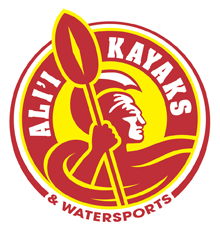 Phone: 808-241-7700
Toll Free: 877-246-2544
Year Established: ALII KAYAKS LLC
Alii Kayaks is a Full-service Kayak and Stand UP Paddle board operator, conveniently located on the Wailua River on the island of Kauai.
ACTIVITIES:
Take a scenic paddle and tour a Hawaiian Village with Alii Kayaks! Your Kayak Adventure is a leisure 4 mile round-trip paddle through a scenic valley once reserved for the Royal Family or Alii. The mid tour destination is the Kamokila Hawaiian Village where our guides will share the native lifestyles from centuries ago. See distant views of the surrounding mountain ranges of Mount Waialeale the wettest spot on earth, Mount Kapu and visit the famous Sleeping Giant. This 3 hour Kayak Adventure allows you to immerse yourself in all the fun things that make Kauai so special!
Take an eco-adventure Kayak/Hike with Ali'I Kayaks and see a Secret Waterfall! Among all the rivers available to adventure seekers, Wailua River Valley seems to be one of the most special places. This is an easy going Hawaiian Style paddle on a Class Zero river combined with a moderate hike through a rainforest, wading through streams, traversing muddy trails; a definite rock solid adventure.

For individuals without paddling experience our guides will provide you with instruction, assist you with your launch and accompany you for the duration providing assistance where needed. They know tricks and tips that will make your journey as easy as possible. Walking sticks and backpack style Dry Bags will be provided. You can feel safe with our guides who are Water Safety, CPR and First Aid certified.
Stand Up Paddle boarding is an old Hawaiian form of surfing that has recently reemerged as one of the fastest growing water sports in the world. Unlike surfing, SUPing is very easy to learn and within an hour you can become very comfortable in the water and on your board. User-friendly to high performance board rentals and instruction conveniently located on the Wailua River.
Cancellation Policy: If you cancel 24 hours or more prior to the date of the event, you will receive a full refund less a 10% cancellation fee. If you cancel within 24 hours for any reason, you will receive no refund. If Alii Kayaks cancels due to inclement weather conditions, you will receive a full 100% refund.