Phone: 808-667-0611
Year Established: 1985
WE ARE THE FRIENDLIEST, MOST EXPERIENCED, AND MOST CARING MAUI SCUBA DIVE SHOP. Dive in Maui and Lanai with Extended Horizons! We specialize in small group diving in Lanai and Maui. Our scuba diving instructors are certified by the National Association of Interpretation and trained to not only show you sea life but also to point out animal behaviors. Our highly rated naturalists/guides/instructors know more, see more, and will show you more. You can get your scuba certification through us. We are consistently ranked as the top scuba diving charter on the west side of Maui, in Lahaina, only 5 minutes from Kaanapali Resorts.
ACTIVITIES: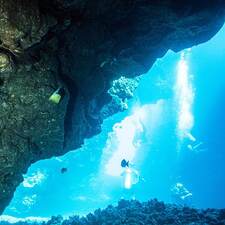 The Lana'i coastline is famous for it's Cathedral dives, swim-throughs, archways, and lava structures. We dive both First and Second Cathedral on a regular basis. Once you see how much Lana'i has to offer: marine life, photo opportunities, lava structure and water clarity, you will want to return again and again. Most scuba dives are in the 50' to 75′ depth.

On the crossing to Lana'i it is common to see whales in season and dolphins all year around.

There are over 40 dives sites to choose from, ranging from beautiful coral reefs, to unique lava tubes, making these dives the best of your vacation!

We offer a continental breakfast in between dives, and bottled water. Towels are not provided.
Cancellation Policy: We maintain a strict 48 hour cancellation policy for our standard reservations, while custom reservation may require more advance notice of cancellation. Please refer to your initial confirmation email for more details.