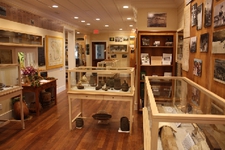 Free Price:
$0.00
-
Members Price:
$0.00
Visit the Lanai Culture Heritage Center to view the large collection of Hawaiian artifacts collected through archaeological investigations, items found by plantation employees over the years, and family memorabilia donated to CHC.

The Lanai Culture & Heritage Center seeks to inspire people to be informed, thoughtful and active stewards of Lanai's heritage by preserving, interpreting and celebrating its natural history, Hawaiian traditions, diverse heritage and cultures, and ranching and plantation era histories.

Admission is FREE, however donations are welcomed and greatly appreciated.

Special arrangements for group visits can be made by e-mail or call 808 565-7177.