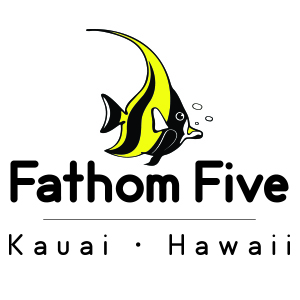 Phone: 808-742-6991
Toll Free: 800-972-3078
Year Established: 1995
Aloha! Welcome to the undersea world of Fathom Five Divers and Ocean Quest Watersports on the beautiful island of Kauai! Serving you for 25 years. Your premier Kauai SCUBA diving facility! Come down to the shop and check us out. We have delicious pastries and coffee at the dive shop every morning!
ACTIVITIES:
We are an official PADI eLearning school! Why return home after vacation with just memories and a sunburn when you could return home with a PADI open water certification and a whole new appreciation of the underwater world?

Fathom Five and PADI eLearning is an excellent way for a new diver to study at their own pace and on their own time schedule while also getting to finish up your education in a beautiful dive spot like Kauai. PADI eLearning is internet based (online) course work that you can access from anywhere via the world wide web.

With PADI eLearning, you can sign-up and complete the knowledge-based dive training from the convenience of your home, office or on the road, 24 hours a day, seven days a week. PADI's eLearning system gives you the flexibility to study course material at your own pace. During the course, you can access the support of a PADI Professional at Scuba Center by email or phone to get guidance and help about the topic you are studying.
Kohola is the Hawaiian word for whale and throughout the winter our waters are filled with the sounds and views of the spectacular Humpback Whales! These charismatic creatures are the size of a school bus and often can be as curious about us as we are about them!
Humpbacks are here explicitly to breed and give birth in our warm protected waters. You tour may see social grouping ranging from moms nursing their newborns to large males fighting for a female's affection. Your experienced guides are well versed in interpreting the whale behavior and sharing what the latest research is teaching us about these often mysterious creatures. Why do they sing? Why do they breach? We just don't know the exact answer, but it sure is fun to experience!
Included in your tour is…
-A knowledgeable guide to teach you about the whales
-A variety of snacks
-Juice, soft drinks and water
-A bit of quiet time to listen for the whales song through a specialized microphone and amplifier (weather permitting)
-No fighting for space to see since our boats only carry 6 passengers max!!
-Great memories to last a lifetime!

We will do our best to keep you out of the elements but rain gear is never a bad idea throughout the South Kauai Winter Season. The whales aren't afraid to get wet!! Bring along a camera to record the memories or give us a call to reserve a waterproof HD video/12mp image camera to rent.
Cancellation Policy: Check here to acknowledge our 24 Hour Cancellation Policy. **48 HOUR CANCELLATION POLICY ON NIIHAU**