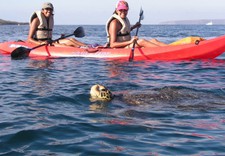 Private (2-3 Guests) Price:
$238.54
-
Members Price:
$238.54
Private (4-6) Price:
$196.88
-
Members Price:
$196.88
Maui Kayak Tours is a stable and beginner-friendly choice for your Maui adventure, kayaking is something ANYONE can do. We use Ocean Kayak Malibu Two's, Scuppers, and Scramblers. These almost impossible to flip vessels provide a safe and secure option great for family, a couple, or individual fun. Let one of our knowledgeable kayak guides share their favorite reefs, marine life, and stories with you on a PRIVATE Kayak Tour today!