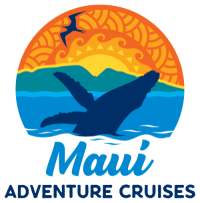 Phone: 808-661-5550
Year Established: 1995
Maui Adventure Cruises has the fastest and largest ocean rafts of any company in the islands. Our friendly and experienced captains and crews will get you to your Maui snorkeling destination fast for more time in the water snorkeling or watching our famous Humpback Whales (in season) and the fantastically entertaining Spinner Dolphins around Lana'i and Maui. We run eco-adventures to Lana'i, We also offer Private Charter services. On all of our snorkel tours we serve deli lunches and unlimited sodas, juices and bottled water during the trip. Come out and see how Maui Adventure Cruises can make your stay here on Maui one of the most memorable experiences of your lifetime!
ACTIVITIES: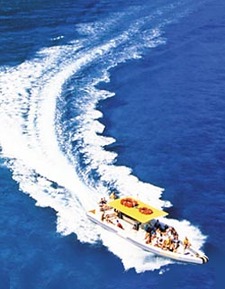 Enjoy whale watching on our Explorer Super Rafts
Our twin engine Explorer Super Rafts are very fast and comfortable vessels with an on-board restroom and give our guests more time to watch whales and less time traveling to and from our leviathan friends. Be a part of the action -- close to the water and the whales -- enjoy a truly remarkable experience with our Humpback.

The Explorer Super Rafts get our guests to the whale watch areas fast for longer viewing opportunities, which is particularly important in the early and late part of the season when the whale populations are further off-shore.

Every seat is a "front row seat" with great viewing. Hear the "songs of the Humpback Whales" from our Hydrophones on-board our Explorer Super Rafts.

Up close and personal viewing - our Explorer Super Rafts offer our guests an ocean level view of the whales, not 15 feet above the water as in the larger boats -- be close to the action and the whales.

Avoid the crowds of the larger boats, it is more fun to view the whales with a few friends rather than 100+ strangers.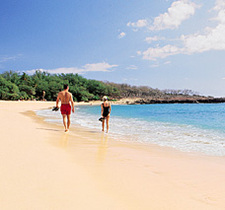 *Available Monday, Wednesday and Friday

Start your morning with Kona Coffee, juice during check-in at Slip #11 in Lahaina Harbor. Souvenir boarding photographs of our passengers are taken by a professional photographer when you board our Explorer Super Raft. Before leaving the harbor, guests are supplied with soft-sided lunch cooler bags containing, turkey wrap, buttermilk dressing, Maui chips, and cookies. Fresh Pineapple and granola bars are served on board our Explorer Super Raft. Beverages including bottled water, soda and juices are available from the ice chests on the boat throughout the trip.

After leaving Lahaina Harbor, we head across the channel to the island of Lanai. Lanai's resident pod of spinner dolphins are often encountered off the island of Lanai with lots of tropical reef fish, green sea turtles and occasional manta rays at the snorkel sites. This trip features an off-shore snorkel site either going to or coming from Lanai.

White Manele Beach
A landing is made on Lanai at Manele Harbor and guests then take a short (1/4 mile) walk to Hulopo'e Bay Marine Reserve with its beautiful white sand crescent beach. Shaded picnic tables are available for visiting with new fellow passenger friends while enjoying your lunch. Guests can snorkel in the bay, hike to Sweetheart Rock and wade or snorkel in the tide pools or visit the Four Seasons Hotel -- all a short distance from the public beach. Guests will enjoy 3+ hours on the island of Lanai, for a total trip of 7+ hours on our Lanai Landing Dolphin Adventure.


Features:
Visit another island - Lanai, the Pineapple Island, and visit Hulopo'e Bay Marine Preserve and its beautiful tide pools.

One of the very few snorkel trips that you can take that includes a landing on Lanai and is the least expensive landing trip offered by any boating company on Maui.

Our Marine Eco-Adventure includes some of the most pristine snorkel sites and reefs in the Hawaiian Islands with an excellent chance of seeing large schools of spinnner and bottlenose dolphins, manta rays, tropical reef fish and green sea turtles.

A full day of fun and adventure aboard one of our Explorer Super Rafts, the largest in the islands and the only rafts with an onboard restroom. Our Explorer Super Rafts are powered by twin engines and provide a comfortable and safe adventure ride across the channel to Lanai.



Cancellation Policy: A 48-hour cancellation notice in advance of the trip departure time is required for a refund. If an attempted cancellation is less than 48-hours advance notice and due to a medical illness, a written statement from a LOCAL physician or medical clinic is required. Guest may reschedule an excursion without a cancellation charge if the new excursion is taken within 72-hours of the booked excursion (limited by availability, unable to cancel). Any price differential in the original booked excursion and the rescheduled excursion shall be paid by or refunded to the passenger as the case may be.