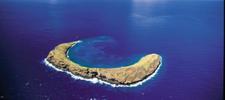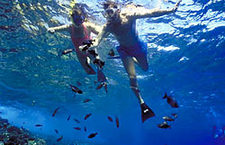 Adult Price:
$200.78
-
Members Price:
$170.66
Youth Price:
$183.95
-
Members Price:
$156.36
Child Price:
$139.09
-
Members Price:
$118.23
Infant Price:
$0.00
-
Members Price:
$0.00
For many, to snorkel Molokini crater is a "must-do" on their Maui vacation, and what better way to experience the beauty of the Hawaiian waters than on a sailboat! We provide ample room on our spacious catamarans and visit two snorkeling locations- the crystal clear waters of Molokini* and the remarkable shallows of the Maui coast line that is home to many Hawaiian honu (sea turtle). Not only does this give our guests additional variety, but it's our way of avoiding some of the crowds. We provide all snorkel equipment including instruction and wetsuit tops. We also offer the option to try the new exciting sport of SNUBA®! Finally, while it's tough to beat Mom's homemade cinnamon rolls or Capt. Coon's BBQ teriyaki chicken prepared by your captain for lunch, what really sets Trilogy apart is the personal attention each of our guests receive. Discover why we are rated Maui's #1 sailing adventure and why our satisfied customers have been coming back for over 42 years!
*THERE ARE TIMES THAT THE WEATHER WILL MAKE SNORKELING AT MOLOKINI CRATER UNDESIRABLE AND DANGEROUS. ON THESE DAYS, WE WILL CHOOSE THE NEXT BEST LOCATION TO SNORKEL

BREAKFAST: Mom Coon's 4th generation recipe cinnamon rolls, fresh fruit, Kona coffee, tea, hot cocoa & pineapple juice.
LUNCH: Teriyaki grilled chicken, fresh tossed green salad with Mom's secret dressing, luau rice and Hawaiian sweet rolls. Wide assortments of non-alcoholic beverages are available throughout the day.

DIETARY
RESTRICTIONS: Vegetarian and gluten-free meals are available only upon request when booking your reservation.

PREMIUM BAR: For guests ages 21 years and up, enjoy two complimentary premium beverages on the return sail!
Bar Includes: Moloka'i Mule, Lana'i Tai, Maui Brew Co.'s seasonal beer, Longboard Lager, Bud Light Platinum, Chardonnay, & Rose.