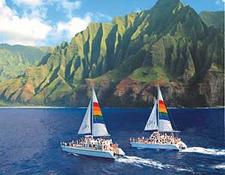 Adult Price:
$96.22
-
Members Price:
$76.98
Youth Price:
$90.81
-
Members Price:
$72.65
Child Price:
$74.59
-
Members Price:
$59.67
Enjoy a fun filled adventure aboard the largest catamarans on Kauai! Sightsee along the Southside looking for dolphins and turtles along the way. Plenty of great food, beverages and our world famous Mai tais are included. Whale watching between Dec. - March.
Accommodation Information:
By checking here I acknowledge that there are no pregnant women or children under 2 in our party. On raft tours all passengers must be at least 8 years old. I also understand that there is a 100% charge for cancellations made less than 24 hours before the tour.