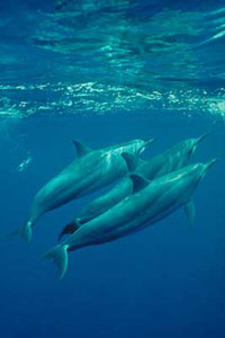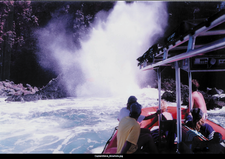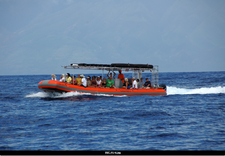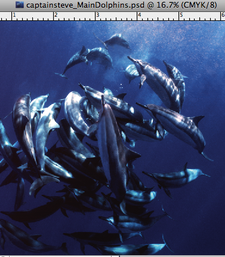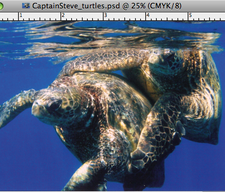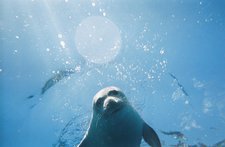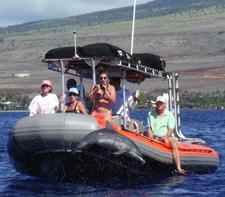 Adult (13 Years & Up) Price:
$171.46 ($182.17 after 12/16/2021)
-
Members Price:
$155.38 ($166.10 after 12/16/2021)
Child (5-12 snorkels/3-12 whale watches) Price:
$128.59 ($139.31 after 12/16/2021)
-
Members Price:
$112.51 ($123.23 after 12/16/2021)
"LIKE" Captain Steve's Rafting Adventures on Facebook to follow our fun on the ocean!

This trip has stood the test of time and has been taken by literally thousands of guests, many of whom continue to return year after year. Captain Steve has been conducting this adventure for over three decades. Waste no time in discovering the secrets of the reef and playing with dolphins, whales, turtles, and rays. There is no telling what we might encounter on any given day! We head across the channel to the island of Lana'i (weather permitting of course) where towering sea cliffs, sea caves, secluded coves, and lava rock pinnacles make up the setting. Imagine a pod of 200-300 spinner dolphins putting on a show just for you or swimming next to an endangered green sea turtle in the crystal waters of the Pacific above the most exquisite fringing reef in the entire State of Hawaii. Perhaps you will catch a glimpse of the most curious creature on the reef, an octopus, or an endangered Hawaiian Monk Seal! Manta rays, spotted eagle rays, pseudorcas (false killer whales), spotted dolphins, and bottle nose dolphins are all possible on any snorkel trip!

Trip runs from 8-2 with 2-3 snorkel stops typically.

A continental breakfast consisting of fresh local fruit, fresh-baked muffins or donuts, granola bars, juice, green tea, and water are served during the morning check-in process at the Mala Boat Ramp. Our on-board lunch is a delicious selection of deli meats and cheeses, two types of bread, fresh lettuce, tomatoes, sweet Maui onions, and sprouts alongside white albacore tuna with capers, pasta salad, olives, pickles, peperoncinis, fresh-sliced vegetables, papaya seed dressing, mayo, and mustard. Sodas, iced tea, water, and macadamia nut cookies are always close at hand. We have even had guests come along just for the ride and the lunch! High quality masks, fins, and snorkels are provided as is snorkeling instruction. Floatation devices and life jackets are available upon request.

We recommend guests bring towels, cameras/underwater cameras, sunscreen, sunglasses, and jackets. Wear "slippahs" aka flip flops as we will be taking your shoes from you since this is a bare foot cruise. Call 808-667-5565 or visit www.captainsteves.com for more information.

All prices include taxes and harbor fees already.
Accommodation Information:
Minimum age to ride on the rafts for whale watches is 3 years old. Minimum age to ride on the rafts for snorkel adventures is 5 years old. Our trips are not recommended for people with back or neck problems or pregnant women. For a 100% refund, cancellations or changes must be made at least 48 hours in advance of the tour time by calling reservations at 808-667-5565 (10 days in advance for private charters, no refunds on the WOAP). There will be a 100% charge for no-shows. In other words, if you do not show up for the scheduled tour, no refund will be issued, as our ability to fill the seat(s) will have been lost. WOAP seats are nonrefundable but do carry forward and can be gifted.