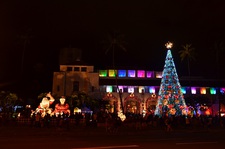 Adult Price:
$25.00
-
Members Price:
$25.00
Child Price:
$16.00
-
Members Price:
$16.00
Lap Child Price:
$0.00
-
Members Price:
$0.00
Reservations Required. Tours Available Daily December 3-30, 2017 ~ Departs the Waikiki Trolley Depot at T Galleria Hawaii at 6:30PM, 7:00PM and 7:30PM ~ Departures From Honolulu Hale at 7:00PM, 7:30PM, 8:00PM and 9:00PM ~ Arrive at T Galleria approx. 7:25PM, 7:55PM, 8:25PM and 9:25PM.

Every Holiday Season, Downtown Honolulu comes alive in a veritable galaxy of festive holiday lights. Enjoy festive holiday lights from the comfort of an open-air vehicle!

One-hour jolly tour includes two revolutions of Downtown Honolulu's famous holiday lights with the opportunity to disembark and re-board on Punchbowl Street across from Kawaiahao Church to experience Honolulu Hale's glorious exhibits and displays.