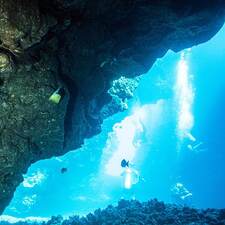 Certified Divers Price:
$400.00
-
Members Price:
$400.00
The Lana'i coastline is famous for it's Cathedral dives, swim-throughs, archways, and lava structures. We dive both First and Second Cathedral on a regular basis. Once you see how much Lana'i has to offer: marine life, photo opportunities, lava structure and water clarity, you will want to return again and again. Most scuba dives are in the 50' to 75′ depth.

On the crossing to Lana'i it is common to see whales in season and dolphins all year around.

There are over 40 dives sites to choose from, ranging from beautiful coral reefs, to unique lava tubes, making these dives the best of your vacation!

We offer a continental breakfast in between dives, and bottled water. Towels are not provided.