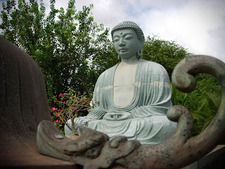 Free Price:
$0.00
-
Members Price:
$0.00
This 12 foot tall copper and bronze statue of Amida Buddha is the largest of its kind located outside of Japan. Originally cast in Kyoto, Japan in 1967-1968 it weighs approximately 3 1/2 tons. The Great Buddha was completed in June 1968 as commemorative project for the Centennial Celebration of the first Japanese immigrants to arrive in Hawaii.

The statue was restored in 1997 by Mrs. Masao Omori in memory of her late husband.

Located at 12 Ala Moana St. Lahaina - Right off of Front St.