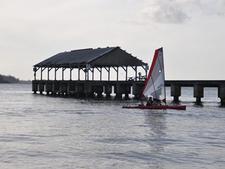 FREE Price:
$0.00
-
Members Price:
$0.00
Located on Kauai's North Shore, Hanalei Pier is a Historic Land Mark that was originally built around 1892 out of wood. The pier was built and used as a working pier to load and off load sugar and other good to and from ships. Fully resotred in 2012-2013 spearheaded by the Hanalei Pier Canopy - Save the Pier.
Today the Hanalei Pier is both a landmark and a favorite recreation spot. Great beach for Surfing, boogie boarding, SUP (stand up paddle board), Swimming, Sunbathing, Family fun, sunset watching.
There are picnic tables, pavillion, restrooms, and showers available.
LIFEGUARD ON DUTY. Always use caution when entering the water.