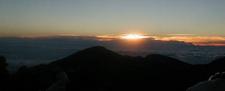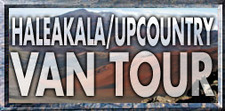 Adult Price:
$177.08 ($155.20 after 02/15/2021)
-
Members Price:
$141.66 ($124.16 after 02/15/2021)
Child Price:
$135.42 ($113.54 after 02/15/2021)
-
Members Price:
$108.34 ($90.83 after 02/15/2021)
The Sunrise Tour offers guests an opportunity of a lifetime to view the sunrise from atop Haleakala at 10,000 ft. The tour is an exciting and informative guided vehicle tour of Haleakala National Park and the Upcountry area. Our Certified Guides will share with our guests the thrilling Culture and History of Maui along the way. Once inside Haleakala National Park, our interpretive guides will explore themes such as the unique Geology and Ecology of the surrounding area. After sunrise, guests will have an opportunity to visit the historic towns of Makawao and Paia.