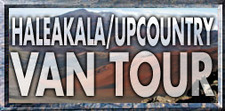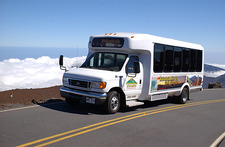 Biker Price:
$217.71
-
Members Price:
$174.17
Non-biker (Adult ) Price:
$196.88
-
Members Price:
$157.50
Non-biker (Child) Price:
$176.04
-
Members Price:
$140.83
Tour Haleakala National Park, which includes the summit, crater, and visitor center then enjoy a 23 mile GUIDED bike ride down Haleakala. We stage at 6500'after the park tour. Guided bike ride down Haleakala and back to our store in Haiku. The guided tour will have the comfort of a cruise leader guiding you down Haleakala and the convenience of an escort van following your group. We furnish Kona brand mountain bike, helmet, backpack, rain/wind gear, map with points of interest.

Accommodation Information:
Transportation:
| | | |
| --- | --- | --- |
| | Cruiser Phil's Guided Morning Central Pick Ups & Take Backs | |
| | Cruiser Phil's Guided Morning South Pick Ups & Take Backs | |
| | Cruiser Phil's Guided Morning West Pick Ups & Take Backs | |
CANCELLATION POLICY
All reservations are paid for in full at the time of booking. Cancelations within the last 48 hours prior to the activity date will not be issued any refund and will be charged 100% for the activity. No Refunds will be issued to "No Shows". Cancelations due to medical reasons can result in a refund if a local doctor's note is provided.
Groups of 10 or more must cancel at least 1 week (7 days) prior to their scheduled activity date. If a cancelation for a group booking is made after the 7-day mark, there will be no refund issued. Final counts, names, and waivers should be submitted no later than 48 hours prior to activity date.
Activities may be canceled by Haleakalā EcoTours/Bike Maui for reasons including but not limited to inclement weather, road hazards, lack of participation, resource allocation, etc. In the event of a canceled activity, the following options will be available to the clients: A trip that is canceled prior to any services provided will result in first the option to reschedule. Guests may elect a different day pending availability, or a different activity (charges may apply). Guests also have the option of taking a rain check for a future date.
Activities may be modified, shortened, or changed but are not limited to the reasons stated above. If the company does modify the activity, the price of the downgraded activity will still be applied and the difference refunded. The company reserves the right to apply a service fee to recover any costs associated with the services provided.
Customers may decline to participate in their scheduled activity at any point and are encouraged to do so if they are not comfortable participating in the activity. Those who decline to participate due to the nature of the activity may request a refund if that request is made prior to services being offered. This formal request must be made by filling out the refund request form available at the check-in location. Refunds of any sort will be determined on a case by case basis by management.