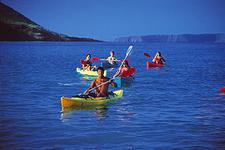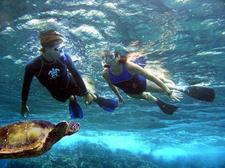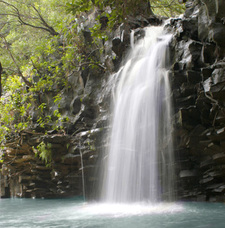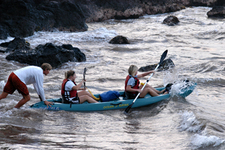 Kayakers/Hikers Price:
$259.38
-
Members Price:
$249.38
Do it all -- waterfall and rain forest hike, ocean kayak and snorkel -- all in one trip. This tour showcases Maui's beauty both offshore and onshore. First, we kayak along West Maui's rugged coastline for 2.5 hours. We snorkel by sliding off the kayak into a sea filled with colorful fish and large, green sea turtles. Then we hike the one-mile Short Waterfalls Walk. We're hiking to two waterfalls, from 10 to 20 feet high, where we swim, climb and jump into clear, fresh pools. No experience needed for the kayak. We teach you well.

>>> SUMMARY <<<
- 2.5 hours of ocean kayaking
- snorkel off the kayak with green sea turtles
- we drive you 50 minutes from the desert to the rain forest
- 1 mile hike (the "Short Waterfalls Walk")
- moderate for most, easy for many
- remote wilderness rain forest valley
- two waterfalls, 10 and 20 feet high
- cliffs up to 15 feet to leap from (optional)

>>> DETAILS <<<
7:15 a.m. meet Kelii Kayak Co.(our partner) on the beach at Olowalu
2:30 p.m. return to your car. Price $160 plus tax per person

>>> CREDENTIALS <<<
Hike Maui is the oldest, most experienced hiking company in the state - celebrating 28 years (since 1983) of award-winning adventures. In the annual Maui News business competition, we were awarded Maui's Best Eco-Friendly Company designation for 2009. For 2010 the Hawaii Eco-Tourism Association chose us as the EcoTourism Operator of the Year.

We are renowned to have the most thorough training on Maui, and our guides are considered the best. They are naturalists who weave geology, botany, ethnobotany, Hawaiian culture and history into the fun of hiking and swimming. Our guides are certified in water safety, Wilderness First Aid and professional CPR.