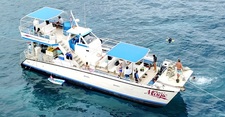 Private Charter - AGENT PRICE Price:
$3429.31
-
Members Price:
$3429.31
Private Charter - DIRECT PRICE Price:
$3161.40
-
Members Price:
$3161.40
Private Passenger Count Price:
$0.00
-
Members Price:
$0.00
Adult F&F Price:
$1928.98
-
Members Price:
$1928.98
Reserve SNUBA (Payable to instructor on board) Price:
$0.00
-
Members Price:
$0.00
*CHECK IN TIME IS 12:45 pm
Maalaea Harbor, Slip #55 - Maui Magic

PARKING:
The harbor offers metered parking and is payable by credit card only. Please scan QR code located at the harbor to pay for parking. Please call Secure Parking Hawaii directly with any parking questions: 1-808-517-1311.

*THE DEPARTMENT OF LAND AND NATURAL RESOURCES HAS NOW MANDATED THAT ALL PARKING AT MAALAEA HARBOR BE PAID. PLEASE FIND THE "PAID PARKING STALLS" UPON ARRIVAL AND PAY IN ADVANCE BY SCANNING THE QR CODE AT THE HARBOR TO AVOID BEING TOWED BY SECURE PARKING HAWAII.

TRIP INCLUDES:
Deluxe BBQ lunch, selection of complimentary beer, wine, juice, sodas, mai tai's, seltzers, and water. All snorkel gear, flotation, and instruction included.

WHAT TO BRING:
Towel, swimsuit, camera, reef safe (non-aerosol) sunscreen, sunglasses, and a light cover-up.

OPTIONAL SNUBA: Available on board for $75 ($69 +tax). SNUBA has to be arranged at least 2 weeks in advance. Must be able to guarantee at least 6 divers. Please contact us directly if you would like to add SNUBA to your private charter: 808-879-8188.