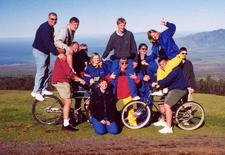 Adult Price:
$120.00
-
Members Price:
$99.00
A highlight for most visitors to Maui—if not all of Hawaii—is experiencing a guided bike tour down Maui's dormant volcano – Haleakala. Guests can enjoy this experience in an active way. Bike 26 miles (42 km) from the 6,500′ all the way down to the ocean at Paia. Guests meet at our office/baseyard (parking located at 886 Hali'imaile Rd., Makawao, Hi 96768)7:30am where we will start guests off with a cold beverage and a snack.

From our Office, we will transport guests to the 6,500′ level and your tour guide will provide you with the history of Haleakala, its geology, and the rare plants and animals found only on Maui. Participants are fitted with a bicycle and helmet to start your guided bike ride.

Pedal downhill, riding along switchbacks, through Haleakala Ranch, and past Kula. Continue through the towns of Makawao and Paia, and finally reach the Pacific coast at Paia.

INCLUSIONS:
• Bottled water
• Snacks
• Local guide

• Use of helmet and chrome cruiser bike
Pre-Qualification Guidelines for Bike ride
Accommodation Information:
Please check this box acknowledging our cancellation policy: Calls received within 48hrs of Tours results in a FULL CHARGE.