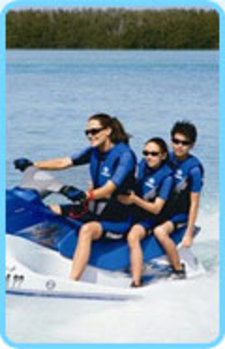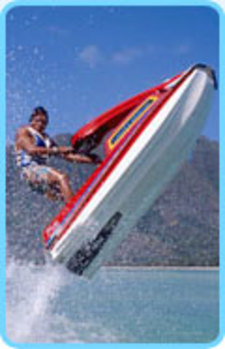 Single Price:
$111.83
-
Members Price:
$111.83
Double Price:
$160.22
-
Members Price:
$160.22
Observer Price:
$32.26
-
Members Price:
$32.26
Come enjoy pure excitement of riding a jetskiing in the beautiful waters of Maui off the Kaanapali coast. We offer one of the most powerful jet skis made today - the Honda Aquatrax.

Perfect Family Fun
Great for couples, Parents with kids. *
Take turns being the driver
16 years + may drive on their own
15 years may drive with an Adult
14 years or younger are passengers
You are going to love it!
Drive your own High Performance Machine. Make high-speed tight turns.

Easy to Ride: Attach the engine shut-off clip to your life-vest before you start your jet ski. Next, place both your hands on the handlebars and slowly squeeze the throttle with your first two fingers. While you are in close proximity to the shore or dock, keep your speed at trolling, the lowest level. Once away from the dock, have fun, but be safe. Stay inside the boeys while you ride and avoid other jet skiers and boats. Be sure to stay aware of your surroundings at all times when you are riding your jet ski.

Riding 2-on-1 Jet Ski: Sometimes riders want to add a friend or child on the back of their jet ski. FOR A LIMITED TIME ONLY - Add a second rider to any of our jet ski rental packages for only $20.00. While its great fun to ride two on one ski, we recommend two adults rent two skis for maximum extreme fun! If you book our Early Bird times you'll save $10 off both 1/2 hour and hour rentals.

Safety Tip: Always stay 300 yards or 100 meters apart. Be sure to stay aware of your surroundings at all times when you are riding your jet ski. If possible, go out on the water with a friend so that you will have help in case of an emergency.

A complete lesson and safety briefing is given. Everyone must wear a life jacket. Your rental time won't begin until you start your machine. There is no rush, no hurry. Rental time begins when you start your machine. Anyone can do it, non swimmers and physical challenged.
Single :

Double:

Observer:
Accommodation Information:
I agree to Maui Water Sports 24 hours cancellation policy for parties of 4 or less and 48 hours cancellation / change policy for parties of 5 or more. Cancellations within the cancellation period and "no-shows" will be charged the FULL AMOUNT of the tour.