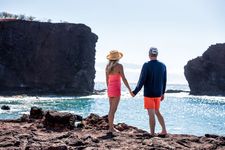 Adult Price:
$297.24
-
Members Price:
$252.65
Youth Price:
$262.47
-
Members Price:
$223.10
Child Price:
$185.08
-
Members Price:
$157.32
Infant Price:
$0.00
-
Members Price:
$0.00
**Available Monday-Friday excluding Holidays**
Start your day with a continental breakfast of Mom Coon's homemade cinnamon rolls, coffee, juice, and seasonal fruit as we make our way to the island of Lana'i. As the only company with permission to bring guests to Hulopo'e Marine preserve, we pay close attention to both safety and comfort. The Trilogy Crew, trained in CPR and First Aid, are experts at ensuring your safety in and out of the water. Our guests enjoy a leisurely 3 hrs at Hulopo'e where they can swim, snorkel, sunbathe, partake in beach games, or experience the popular upgrade of SNUBA®. Our kiawe wood BBQ lunch served at the Hale O Manele Pavilion overlooking Manele Harbor, is considered by many to be one of the best in Hawai'i. During lunch, a local halau (hula school) will share their hula and Hawaiian culture with our guests. On the return sail to Maui, enjoy a cold beverage and locally-made ice cream as we set the sails and glide across the au'au channel. Many of our guests write to tell us that this trip was the highlight of their whole vacation!

MENUS

BREAKFAST: Mom Coon's 4th generation recipe cinnamon rolls, fresh fruit, brewed Kona coffee, hot tea, hot cocoa, pineapple juice, and an egg croissant sandwich.

BBQ MEAL: Captain Coon's Kiawe pulehu (grilled) BBQ chicken *GF, Asian stir-fried noodles, seasonal vegetable, fresh tossed green salad with mom's secret dressing, assorted rolls, and fresh Hawaiian pineapple. A wide assortment of non-alcoholic beverages are available throughout the day. Our premium selection of adult beverages are available after your ocean activities.

DIETARY RESTRICTIONS: Vegetarian, vegan, and gluten-free meals are available only upon request when booking your reservation.

PREMIUM BAR: For guests ages 21 years and up, enjoy two complimentary premium beverages on the return sail!
Bar Includes: Moloka'i Mule, Lana'i Tai, Prosecco, locally-brewed beer and white wine.

Bring your towel, swimsuit, non-aerosol sunscreen, sun protection, and a light jacket/sweatshirt.
Accommodation Information:
1 - 8 Guests = Must cancel 48 Hours prior to trip departure time 9 or more Guests = Must cancel 72 Hours prior to trip departure time $30 Rescheduling Fee if guest changes tour date within 48 hours of departure time